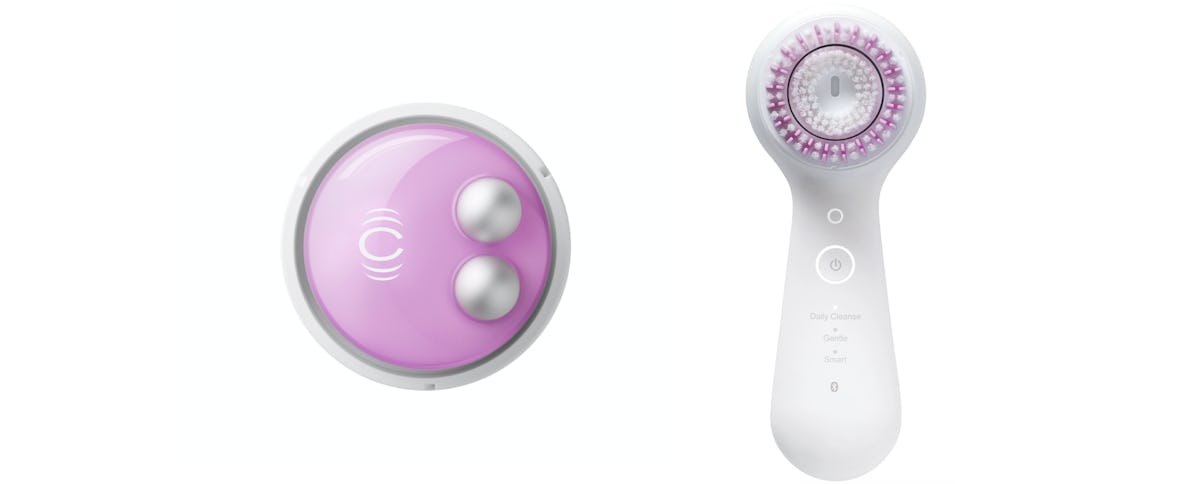 Clarisonic's Latest Device Provides 18,000 Eye "Massages" In 30 Seconds, So Poof, Puffiness
Clarisonic
You hardly have to be a skincare buff to know what a Clarisonic is. The swiveling sonic cleansing brush took the beauty world by storm when it launched, and has only been getting better ever since, thanks to newer models, smaller sizes, and cuter colors. The brand just dropped two new cleansing devices — one of which, the new Clarisonic Mia Smart —has the capability to provide 18,000 eye "massages" in 30 seconds.
Yes, you read that correctly.
It's all thanks to a new attachment for the just-launched Clarisonic Mia Smart — a new device looks like the OG Clarisonic that we all know and love...but, like, a little bit sexier. (Fun fact: it was designed by the same people behind Beats by Dre. Dope.) Anyways, not only does it look sexy, but it promises to make your skin feel gorgeous, too. (More on that later).
The second new device, the Mia Prima, is like the Mia Smart's little sister. It features a single cleanser setting that lasts for 60 seconds, making it ideal for people who would rather keep cleansing simple. The Prima is pretty and effective, but it doesn't have all of the bells and whistles as the Smart version (below).
So what are the new bells and whistles? As the name implies, the Mia Smart is, well, smart. How, you ask? An app, of course! The app allows you to fine tune your skincare goals by transmitting personalized skincare data to the Smart device itself — which, in turn, adjusts the strength, speed, and duration of your cleansing routine. Think of it like having your own on-call facialist.
Second — and here's where the eye massager part comes into the picture — the Mia Smart has the capability to do more than just give you a makeup-melting deep clean, thanks to a new detachable head, The Sonic Awakening Eye Massager Brush Head ($59, below). It's pretty much what it sounds like.
It's also a fun way to reduce under eye puffiness. It's also designed to soften fine lines and wrinkles around the eyes over time. While I can't attest to the latter claim, an Elite Daily editor tested it and felt like it did depuff her orbital eye area, which is always great.
If eye massages aren't your thing, let it be known that you can opt for a face-sculpting Firming Massage ($59) or even a Sonic Foundation Brush Head ($39) for applying makeup with a flawless finish. And, for sensitive skin types, there's also a new, gentler version of the OG brush head, the Sensitive Brush Head ($27). Honestly, I want them all.
If you, like me, are the proud owner of one of the OG Clarisonic models and would kinda rather try the latest, gussied up versions, here's some good news: the brand is instating a trade-in program, where you can swap your oldie and get $25 to spend towards one of the new Clarisonic models. The trade-in runs from August 8 until September 4, 2018.
Otherwise, you can snag the Mia Prima for $99 or the Mia Smart for $199 on Clarisonic.com. It's a bit of an investment, but a worthwhile one if you're looking to step up your cleansing game and pave the way for a few additional skincare benefits to boot.