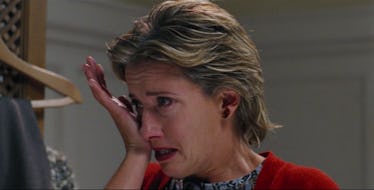 The Story Behind Emma Thompson's Emotional 'Love Actually' Scene Will Break Your Heart
Netflix
Fans of the romantic comedy Love Actually generally agree that there's one scene that sticks out from the rest: the moment when Karen realizes that her husband Henry is cheating on her. In the scene, Karen, played by Emma Thompson, receives a CD from Henry instead of the extravagant necklace she found in his coat pocket, and she breaks down in their bedroom as she realizes that Henry bought the necklace for another woman. The British star fully commits to Karen's breakdown, but as it turns out, Thompson drew from real-life experience to nail the Love Actually necklace scene. According to Marie Claire, Thompson was able to so beautifully capture Karen's true emotions because she had been cheated on by a husband, as well, giving her a chance to really understand what her character was going through.
At a fundraiser for the Tricycle Theater in London this weekend, Thompson told attendees that while filming the necklace scene, she drew upon the heart-wrenching experience of being cheated on by her then-husband Kenneth Branagh. "That scene where my character is standing by the bed crying is so well known because it's something everyone's been through," she said. According to The Telegraph, Thompson elaborated on her relationship with her ex-husband Branagh, saying, "I had my heart very badly broken by Ken. So I knew what it was like to find the necklace that wasn't meant for me. Well, it wasn't exactly that, but we've all been through it."
The Emma Thompson and Kenneth Branagh's story is a particularly sad one. In 1987, the two actors met on the set of the BBC drama Fortunes of War, and they quickly fell in love, marrying in 1989. For a few years, Thompson and Branagh were the UK equivalent of Brangelina, and they collaborated on large productions like Dead Again and Much Ado About Nothing. However, in 1994, Branagh met Helena Bonham Carter (yup, that Helena Bonham Carter) on the set of Mary Shelley's Frankenstein, and they began an affair. In 1995, Thompson and Branagh separated, and the newly divorced Branagh continued dating Bonham Carter until 1999. In 2003, both Thompson and Branagh remarried: Thompson married Greg Wise, a British actor (Lord Mountbatten in The Crown), and Branagh to art director Lindsay Brunnock.
Thompson told The Telegraph that what Karen does in Love Actually's necklace scene — cry alone in a bedroom, then pick herself up and put on a happy face publicly — is exactly what she used to do during Branagh's affair. "I've had so much bloody practice at crying in a bedroom, then having to go out and be cheerful, gathering up the pieces of my heart and putting them in a drawer," she said. Of all Thompson's comments about her difficult marriage, this one is by far the saddest. We can only hope that getting to play out the scenario for the 2003 film offered Thompson a small bit of catharsis.
At the end of the day, however, Thompson insists that she wishes Branagh and Bonham Carter the best. The award-winning actress told The Sunday Times:
That is... all blood under the bridge. You can't hold on to anything like that. It's pointless. I haven't got the energy for it... Helena and I made our peace years and years ago... she's a wonderful woman.
In the over 20 years since their divorce, Thompson and Branagh have gone on to have incredibly successful careers. Plus, even all these years later, the three parts of the infamous mid-90s love triangle have something in common: they've all appeared in the Harry Potter franchise at one point or another. Maybe all it took was a little Potterworld magic to get these amazing British actors back on good terms.