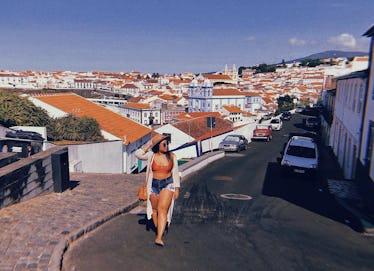 7 Unpredictable & Attainable Places In Europe Every Study Abroad Student Needs To Visit
If you're studying abroad, not only are you super excited to continue your education, but you're also probably fantasizing about the prospect of taking weekend trips to glamorous cities. (I mean, who doesn't want to say something like, "I'm headed to Milan, dahling," as you wrap a silk scarf around your head and drive off into the sunset in a vintage convertible?) And while it'll be nice to cross off some of your bucket list destinations — Paris and Rome are at the top, of course — you should also take advantage of the opportunity to visit some of the most unpredictable places to travel to in Europe.
Not only are these cities stunning in their landscapes and architecture, but they let you experience the culture of the country authentically, without having to deal with the chaos of giant crowds of people. Plus, most of them are incredibly budget-friendly. Take a day or weekend trip (depending on where you're studying) to discover some spots you didn't know you needed in your life.
Though some of these cities require a short flight or ferry ride from the mainland, they're all well-worth the journey. If you're looking for ways to diversify your travel bucket list during your semester abroad, make sure to include any of these seven cities.