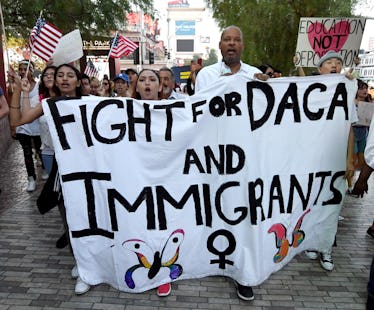 The Most Googled Question In 2017 Shows How Worried We All Are
Ethan Miller/Getty Images News/Getty Images
2017 has been a rough year. Like, really, really rough. It's hard to pinpoint what part was the most trying, exhausting, and overall terrible, because there are just too many options to choose from. If you want to take a closer look at the most hot-button issues of these past 12 months, look no further than the internet. The most Googled question in 2017 shows just how worried we are about America right now.
The top question people searched for is "what is DACA," which makes a lot of sense. On March 26, 2018, almost 1,000 people a day could lose their Deferred Action for Childhood status, a policy that permits young people who were brought to the United States illegally as children to stay in the country. The Trump administration decided to ax DACA, and left it up to Congress to find an alternative solution.
Attorney General Jeff Sessions explained during remarks on Sept. 5,
To have a lawful system of immigration that serves the national interest, we cannot admit everyone who would like to come here. That is an open border policy and the American people have rightly rejected it.
Therefore, the nation must set and enforce a limit on how many immigrants we admit each year and that means all can not be accepted.
Trump chimed in, taking to Twitter to needle Congress.
So, basically, members of Congress have to now figure out what to do with the 700,000 young people who have been living and working in the United States for almost their entire lives.
Googling DACA will pull up some truly heart-wrenching stories of recipients who are currently caught in an exhausting limbo. They're worth the read. Brittany Aguilera, a 28-year-old from Trinidad, told The New Yorker,
The situation, when you deal with it for so long, it turns you into a person who doesn't have the ability to stress the way a normal person stresses; you don't have the ability to show the regular emotions a normal person would show. All you know is how you feel in the moment. All I can do is exhaust all possible options. I'm focused on taking the next step, to survive past Thursday.
The other most searched questions are just as timely.
Popular questions included: "what is antifa," "what is the Paris Climate Agreement," and "what is a hurricane." On the much lighter side of things, people also wanted to know what a fidget spinner is (are those still a thing?), what a solar eclipse is, and the meaning behind covfefe. For the latter question, I'm sorry to say covfefe has no meaning whatsoever. It is the product of Trump's imagination. For those of you who missed this national hiccup, it really is a gem and well worth the Google search.
At 12:06 a.m., the president wrote in a since-deleted tweet: "Despite the constant negative press covfefe." The internet went into a tizzy trying to figure out what covfefe is. Even Merriam-Webster was confused.
Trump got in on the fun and wrote this uncharacteristically whimsical message:
Meanwhile, then Press Sec. Sean Spicer took a far less whimsical take, and told reporters during a press conference in May 2017,
The president and a small group of people know exactly what he meant.
Way to spin it, Spicey.
While we're on the topic of the most popular searches in 2017, it's also worth noting the people we were all furiously Googling this year.
Matt Lauer was the #1 search, followed by Harvey Weinstein. Again, this was a bleak year. Also, though, Gal Gadot and Meghan Markle topped the list as they damn well should.
Here's hoping for far more optimistic Google searches in 2018. We need it.