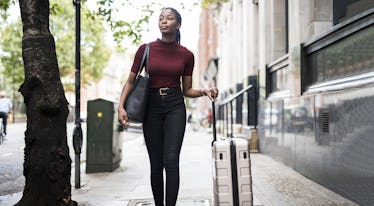 Amazon Reviewers Agree: This Is The Most Durable Luggage
Whether it's getting tossed around on airport turnstiles or dragged to various remote locations, your luggage really takes a beating while you travel. If you want the most durable luggage, you need to make sure the materials are tough and the construction is built to last.
Generally speaking, hardshell luggage is more durable than soft-shell, although there are some exceptions. If you go with hardshell, polycarbonate is usually the best choice for material (and, conveniently, the most lightweight). If you prefer soft-shell, look for rugged fabrics, like nylon with a high denier.
Aside from materials, you'll also want to look at the wheels. If your luggage doesn't roll smoothly, it will really slow you down. Spinner wheels rotate a full 360 degrees and typically offer more agility compared to roller wheels. But they aren't as smooth on uneven surfaces, like sidewalks or cobblestone, and they're more vulnerable to breakage. For that reason, some people prefer roller wheels — it really comes down to personal preference.
Lastly, look for extras features like sturdy handles (aluminum telescoping styles are the most reliable), as well as organizational pouches and pockets. Below, I've gathered a list of the most durable luggage, according to lots of research and reviews. Take a look, and get ready for your next vacation.