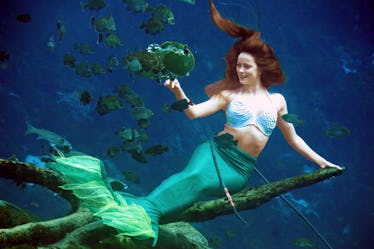 This Full-Time Mermaid Is Living Her Best Life Under The Sea
Courtesy of Weeki Wachee Springs State Park
It's always a sad moment, somewhere in the vicinity of first grade, when you realize that, no, being a mermaid isn't a valid career option. As it turns out, though, there are a few women who don't seem to have gotten the memo, and they're all based down in Florida, where the mermaids of Weeki Wachee Springs State Park are living out your underwater dreams.
The mermaids have been putting the park, and its natural spring, on the map as a tourist attraction for over 70 years. Since their start in 1947, the famous mermaids have performed underwater shows in the park's natural spring, met with fans, and even traveled away from their spring to perform in enclosed aquariums. But while the mermaids have been at Weeki Wachee for seven decades, Kourtney Ellinghuysen has only been a Weeki Wachee mermaid for about two years. The 21-year-old has been part of the Weeki Wachee team, working full-time as a mermaid, since the summer of 2016. And it's been two years of pure magic, by the looks of things.
"I'd grown up relatively close to the mermaids," Ellinghuysen tells me in an interview for Elite Daily. Living about 30 minutes away from the park, she says she visited Weeki Wachee frequently as a child, going on field trips or visits with her mom. But still, she says, if you told 6-year-old Kourtney that she would grow up to be one of the mermaids, "I probably wouldn't have believed [it]," she says, lapsing into an imitation of herself as a little girl. "'There's no way. Are you really a mermaid!?' I would honestly probably get so excited."
You and me both, Kourtney.
There's a moment where it gets really quiet before the music starts, and it's just this beautiful, serene spring. It's gorgeous.
Seven days a week, the team of 16 mermaids, accompanied by their two princes, perform shows for the delight of fans, visitors, and other aquatic enthusiasts in a theater 16 feet below the surface. Twice a day, they perform a version of — what else? — The Little Mermaid, with an original show called Fishtails in between, displaying "underwater feats from the past six decades." Each show lasts about 30 minutes, giving your average mermaid a total of at least an hour and a half a day submerged.
"Right before the show starts there's a moment where it gets really quiet before the music starts, and it's just this beautiful, serene spring," Ellinghuysen describes, adding that no artificial water can measure up to the experience of swimming in a natural spring. "It's gorgeous."
There's an air of sisterhood among the mermaids, and listening to Ellinghuysen talk about them feels like hearing any woman talking about her friends or teammates — down to the arguments about what to wear.
"We always have the conversation about what tails and what tops we're going to wear, always," she says. The costumes are communal, so it's a constant game of who's wearing what for which show.
During their shows, she says the mermaids often play little jokes to keep things entertaining for themselves, as well as the crowd. For every performance, a showrunner sits in a control room where she or he can see the whole stage and issue underwater stage directions in real-time — a safety precaution that also lends itself to some practical jokes.
For instance, Ellinghuysen says, "[In IT], Pennywise the Clown does this weird dance, like he's throwing his legs around and looks really goofy, and a lot of our sea witches got thrown [stage directions] that you have to throw the Pennywise dance somewhere in your choreography. So everyone would try to mix it in somewhere different."
While Ariel may have been able to while away the time collecting forks — excuse me, dinglehoppers — and singing karaoke with Sebastian, it turns out that in real life, being a mermaid is some really hard work. Not only is it a full-time job, but it's also a really demanding full-time job, with a whole lot of training and physical effort. "The audition process was a lot harder than I thought it would be," Ellinghuysen admits. Because she had a history as a dancer, she thought she had it in the bag. "But it is a lot harder than it looks."
Besides demonstrating that they have the grace and personality to perform below the surface with some underwater ballet moves, potential mermaids must complete a timed 300-yard swim both with and against the strong current of the spring, which runs a galloping 5 miles per hour. To get through it, she took some inspiration from a certain Disney heroine, but not the one you might think. "You gotta keep thinking, 'just keep swimming, just keep swimming, just keep swimming,'" she says.
The hardest thing to learn, Ellinghuysen says, wasn't the choreography or how to look relaxed and graceful underwater. For her, it was using the breathing hose — the pressurized air tool that allows the mermaids to stay underwater for long periods of time. "It's not like you think it's going to be," she says. Ellinghuysen had to train herself to stay relaxed while breathing in through her mouth and out through her nose, instead of vice-versa, on top of thinking about things like air pressure and keeping herself focused. "There's so much to think about, and then you get underwater and it's just... quiet," she says.
Even once a mermaid is comfortable, there's an additional difficulty in using the breathing hose. "You've got to worry about your buoyancy," Ellinghuysen says. "If you take in too much air, you're going to float to the top. If you don't take in enough air, you're going to be sitting on the bottom."
As hard as it is in the moment, after the shows are done, the whole thing gets even less glamorous. "You don't see all the behind the scenes work that goes into it," Ellinghuysen says. "The spring is our home, so we clean our home." The mermaids do all the maintenance work in the spring, including cleaning the windows of algae, resetting air hoses, and more. (The ever-chivalrous princes take on the unpleasant job of carrying away the buckets full of smelly dead seaweed.)
Some [kids] get so almost starstruck they can't talk.
But the good moments make up for everything else. "My favorite thing about this job is definitely the kids," Ellinghuysen says, "and seeing how they react to us." There's always at least one mermaid available for a meet-and-greet after a show, something that can make both kids and mermaids excited. "Their faces just light up, their eyes get so big. Some of them get so almost starstruck they can't talk," she says.
One of her favorite moments was when the mermaids had just arrived at an aquarium where they were doing a show. Though there was no performance scheduled that day, the mermaids decided to go through a practice in the water — to the delighted surprise of the kids at the aquarium. "I remember looking through the glass and seeing this little girl do that really excited, almost running-in-place, hand-shaking — she just couldn't contain it all," Ellinghuysen laughs. "She was so excited to see us swim."
While the job is definitely a fantasy, Ellinghuysen doesn't pretend it'll last forever. She has a second job as a dance teacher a few hours a week, and on top of her full-time work, she's currently in school and wants to become a paramedic. "So that's where my crossroad is at," she says.
But for now? There are definitely worse gigs out there than being a full-time mermaid. And for anyone who wants to follow in her footsteps — er, the wake of her tail — in finding their dream job, Ellinghuysen is encouraging. "There's always opportunities out there," she says. "Positivity and optimism is a mindset and a choice." And if you need something a little more concrete? She can always offer her favorite piece of advice: "Just keep swimming," she laughs again. Hey, it got her to where she is.