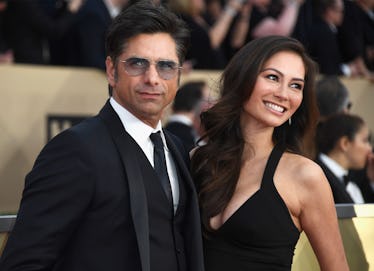 John Stamos Is Finally A Dad & His New Son's Name Has A Sweet Meaning
Frazer Harrison/Getty Images Entertainment/Getty Images
Fuller House fans are on high alert because John Stamos aka Uncle Jesse is now a dad! That's right, Stamos has finally passed down those good looks and incredible locks to a son of his own. He even passed down a stellar name — Billy Stamos! It may not seem like a typical Hollywood name, but the meaning of John Stamos' son's name is actually really sweet.
Stamos, 54, and his wife Caitlin McHugh, 32, announced the birth of their new bundle of joy via social media on April 15. The couple named their son after Stamos' late father, William Stamos, who was a huge influence on Stamos growing up. How sweet!
A rep for Stamos told People that baby Billy and mom McHugh are back home from the hospital and that both are happy and healthy.
Stamos has famously played Uncle Jesse on Full House and its reboot, Fuller House. While he's had tons of on-set experience with kids from his time on both shows, it's not quite like having a child all your own. But Stamos seems down for the challenge of parenting.
In his Instagram post about his son's birth, Stamos paid sweet homage to his wife and new baby boy. "From now on, the best part of me will always be my wife and my son. Welcome Billy Stamos (named after my father)," Stamos said. The accompanying photo is really beautiful as well. He finished off the post with a few heartwarming hashtags, "#NotJustanUncleAnymore #Overjoyed"
Nope, he's definitely not just an uncle anymore. It seems like Stamos has been waiting for this day for a long time. McHugh told People as far back as December 2017:
The look on John's face when I told him we were pregnant was priceless. It was the look of a man who has wanted a family of his own but wasn't sure it was going to happen for him. Now it is!
It's really great that Stamos can live out his dream of being a father. Plus, now he's officially a hot dad, as they say, and he's got a pretty hot wife to boot. Fans are more than pleased about their union and it seems like McHugh is a great match for him.
"We have the same morals and the same values, that all clicked nicely," Stamos said of McHugh in December 2017. "So we said, 'Oh, well, maybe we should have a family,'
Stamos married McHugh, a model, writer, and actress, in February 2018. The couple announced their engagement in October 2017 after a year of dating. In December 2017, Stamos and McHugh announced that they'd be expecting their first child.
Stamos told People about the pregnancy and subsequent marriage in an emotional interview:
The pregnancy happened. Then I said, I better have a ring on her finger because it's the right thing to do, and I wanted to marry her anyway. So I called her parents to ask, and it was like, 'You better!'
When asked what kind of dad he thought he'd be, Stamos answered, "I think I'll be a fun dad!"
Well, if his time on Full House and Fuller House is any indication, then he probably will be!
Speaking of Full House, now that the little guy's here, fans are overjoyed for Stamos and McHugh.
Here's what some fans are saying about the latest addition to the Stamos legacy:
What a supportive and loving fanbase Stamos has. So nice to see people rallying around and supporting him and his new family. Welcome to the world little Billy!