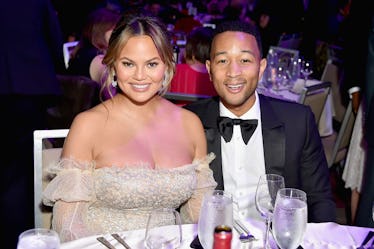 The Meaning Of Chrissy Teigen's Son's Name Is So, So Thoughtful
Mike Coppola/Getty Images Entertainment/Getty Images
Chrissy Teigen and John Legend have just announced the name of their brand new son and it's a special one! They've christened their little one Miles Theodore Stephens, and it's just so perfect. So, what's the meaning of Chrissy Teigen's son's name? Well, according to BabyCenter.com, Miles means Latin soldier boy.
How can you not love that? And it's so interesting because Teigen and Legend were quite open about not knowing what to name their son. The couple announced their new baby's name via Instagram in a statement that read,
Hello, world! This is Miles Theodore Stephens - We are drowning in his little peeps and nuzzles. Our household feels overwhelmed with love. Thank you for all your well wishes!
Ever since they found out they were having a little boy, the beautiful couple has gone on interview after interview talking about what they might — or might not —name their son.
"Boy names are really tough. I don't even think he'll have a middle name because we can't even think of a first name," Teigen told Ellen DeGeneres in February.
It's crazy to think about how two of the most creative people on the scene right now couldn't think of a name for their own kid. But I think this was just a fluke, since this wasn't the case at all when they were naming their daughter Luna, which Teigen said was quite simple:
"It was a very beautiful night, really big, vivid red moon, and just gorgeous. I have this love for space and I think about space camp all the time, and my days at space camp as a youngster. And so I just thought Luna was perfect."
The name Luna is Latin for moon and, in Greek mythology, it refers to Artemis, the moon goddess. What a lovely name for a girl.
As for her son, Teigen even joked about giving the the new baby a wildly-inappropriate name.
"I've been toying with Dick Legend a lot," Teigen told Ellen. "Can we say that? Richard Legend."
Thankfully, that's not what they went for and they chose something that was a little less punchline-worthy. A trendsetting name, for sure. Just imagine how many more babies will named the same exact thing this year!
Cute name aside, [Baby Name] is sure to have it pretty good as he grows up! His mom and dad are, well, legends... and they seem to have a pretty good handle on parenthood — even if Teigen doesn't think so just yet. When asked by The Cut if she felt like an expert mom, Teigen said:
Oh god, no. I still hit up other people for advice all the time, especially people with two kids. That's something I'm really curious about right now — how to deal with your first when you have a second coming along, especially when they're so young. Luckily, a lot of my best friends have two kids and they're teaching me so much. I get really worried I'm not going to pay enough attention to Luna, but they've told me you actually start overcompensating and paying too much attention to your first. So there are a lot of these little things I always wonder about. But no — I don't feel like an expert in any way. I just know what our family loves, and that the public deserves a choice when it comes to wanting to do the best for the baby.
If the way she's currently juggling everything that's on her plate is any indication, I'm sure Teigen will be just fine! Plus, she's got John and little Luna to back her up. What's that saying, again? "It takes a village." Well, she's got a mini one right at home, so baby Miles will be way more than just OK. Couldn't be happier for this growing family!