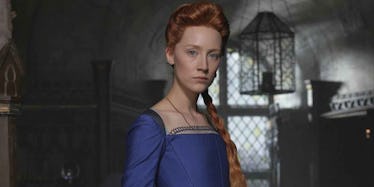 The 'Mary Queen Of Scots' Trailer Is Here & Margot Robbie Is A Royal Blessing
Universal Pictures
Before there was Queen Elizabeth II of The Crown, there was Victoria. Before Victoria, there was Queen Elizabeth I. When it comes to Queens of England, that's what most people know. But what some forget is there was also Mary, Queen of Scots. Director Josie Rourke aims to remind everyone of their royal history with a brand new period drama starring Saoirse Ronan as the titular queen and only surviving child of King James V, and Margot Robbie as the daughter of Henry VIII who ultimately beheaded her. The new Mary Queen Of Scots trailer looks about as royal as it gets too.
All this comes about due to the famous six wives of Henry VIII, a period in English history where one dude completely reordered the entire country's religious beliefs from Catholic to Protestant just so he could get a divorce or two. There have been countless adaptations of Henry's first divorce period from the Oscar-winning A Man For All Seasons to the more recent TV series The Tutors and Wolf Hall. But it's rare to see a piece focused on the fallout among the next generation.
Mary Queen of Scots is not Mary I, the elder half-sister of Elizabeth. She's Mary Stuart. Mary I was deposed before Stuart came to Scotland after her royal husband was overthrown in France. Though there is talk in the trailer of "sisterhood," this is the story of two cousins finding themselves fighting over which is the legitimate heir.
The film's plot leans into the idea of women who could have ruled side by side, had men not entered into the equation. Here's the synopsis, via Deadline:
The charismatic Mary Stuart (Ronan) had a turbulent life. Queen of France at 16 and widowed at 18, Mary defies pressure to remarry. Instead, she returns to her native Scotland to reclaim her rightful throne. But Scotland and England fall under the rule of the compelling Elizabeth I (Robbie). Each young queen beholds her "sister" in fear and fascination. Rivals in power and in love, and female regents in a masculine world, the two must decide how to play the game of marriage versus independence. Determined to rule as much more than a figurehead, Mary asserts her claim to the English throne, threatening Elizabeth's sovereignty. Betrayal, rebellion and conspiracies within each court imperil both thrones – and change the course of history.
While all of this is historically correct, there's one glaring omission: The religious aspect. As a Catholic, Mary believed Henry never had the right to divorce, making the late Mary I the only legit heir.
If Elizabeth were declared a bastard, Henry's crown would pass to the next living member of his direct family. That would be Mary Stuart, who was the daughter of his sister, Margaret Tudor. If she could turn the national religion back to Catholicism (and there were Catholics living in fear in England left over from the mandatory switch who supported this), the country would have no choice but to recognize her.
Elizabeth, however, believed in the progressiveness of the Protestant revolution. It conveniently also made her the rightful heir once Henry's only son Edward (from his third wife) died. Moreover, many in England's upper classes were totally good with not having to tithe to the Vatican anymore. Their fight was as much about whether Henry's legacy of societal change would remain intact or not.
The cast is a who's who of UK talent too. Supporting roles include David Tennant (Doctor Who), Guy Pearce (The King's Speech) Gemma Chan (Captain Marvel), Brendan Coyle (Downton Abbey), Ismael Cordova (Ray Donovan), Ian Hart (Harry Potter), Jack Lowden (War & Peace), James McArdle (Star Wars: The Force Awakens), and Joe Alwyn (Taylor Swift's Current Boyfriend).
Mary Queen Of Scots arrives in theaters on Dec. 7, 2018.