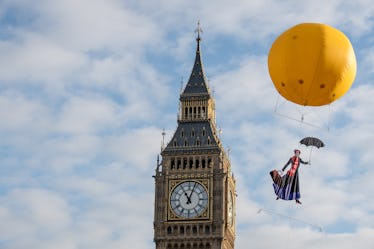 The 'Mary Poppins Returns' Trailer Is Finally Here & It Will Make You Feel Like A Kid
Chris J Ratcliffe/Getty Images News/Getty Images
I don't know if you've heard, but everyone's favorite nanny is returning to the big screen this year. The long anticipated 2018 film Mary Poppins Returns is set to premiere Dec. 25, and it's sure to take us to new heights. The Mary Poppins Returns trailer has arrived, and it proves that Santa isn't the only thing we should be looking forward to this Christmas.
The trailer, which aired on March 4 during the 90th Academy Awards, shows a dreary, windy day in London. A kite flies across cobblestone streets and into a park, where a father and son start reeling the kite in. Then, like the magic this character truly represents, Poppins appears from the sky like an actual angel.
I don't know about y'all, but I have chills.
Mary Poppins Returns will be a sequel to the 1964 original film. Emily Blunt will be playing Poppins herself. While living up to Julie Andrews original performance is certainly no easy feat, from the looks of the teaser trailer Walt Disney Studios shared on July 15, 2017, she's absolutely perfect for the job. The storyline will surround the reunion of Poppins with Jane and Michael Banks, who are now adults, after a tragedy strikes Michael and his family. So, our favorite nanny returns to help out Michael's children Annabel, Georgie, and John, and give them that classic Poppins charm. The best part? This second story will be taking place right back on Cherry Tree Lane. Home truly is where the heart is.
The film's supporting cast is sure to be as star-studded as its predecessor. Lin-Manuel Miranda will be updating the role of Dick van Dyke's character Jack, the most iconic chimney sweeper. A-listers including Meryl Streep, Colin Firth, Angela Lansbury, and others will also be gracing the screen come Dec. 25.
Want to feel like a kid again? Check out this trailer.
I may be 25-years old, but if Mary Poppins emerged from the clouds and come and take care of me for a little bit it would be greatly appreciated.
The team behind Mary Poppins Returns will be the same geniuses who brought us Disney's hit musical Into the Woods. Rob Marshall will be overseeing the role of director as John DeLuca and Marc Platt will be taking over as producers. This is sure to be an exciting time for Marshall, since the original 1964 Mary Poppins film is one his favorite stories. In an interview with Entertainment Weekly, Marshall discussed his vision for the sequel when approached with directing the project, and how he wanted to explore untold stories for the next generation to enjoy.
He said,
When Disney came to me, the first thing you immediately feel is daunted, because how can you ever even be in that same world as that brilliant original perfect movie? We realized there was such a wealth of adventures that never materialized onscreen, and I thought, maybe there's a reason to do this film. There was talk about doing one in the '80s or '90s that never materialized, but when Disney brought this up to me, they said the Travers estate was very open to this, as long as we treated it carefully. And I thought, well, that's the one thing I know I can do — treat it as beautifully as it deserves to be treated.
Well, from this looks of this trailer, Marshall and his team are doing a damn good job so far.
So get those sugar spoons ready people, because this movie is going to take us through the clouds and make us feel like we're little kids again.
Big mood.