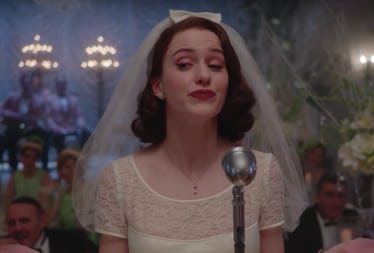 'The Marvelous Mrs. Maisel's' Golden Globe Nominations Will Make Fans So Excited
YouTube
Amy Sherman-Palladino fans, rejoice! Your favorite period piece about the ever-funny New York housewife just got some Golden Globes love. The Marvelous Mrs. Maisel's 2019 Golden Globe nominations were announced on the morning of Dec. 6, and fans hoping the show would sweep yet another round of award show nominations were not disappointed. The Amazon Prime Video show just snagged noms in the Best TV Comedy/Musical Series, Best Actress - TV, and Best Supporting Actress - TV categories.
This should surprise literally no one, given that The Marvelous Mrs. Maisel has been sweeping every award show since its first season aired. It swept at the last Golden Globes and the last Emmys, with Rachel Brosnahan taking home a Golden Globe and an Emmy for her performance as Midge Maisel and Alex Borstein (aka Lois Griffin on Family Guy) taking home a Best Supporting Actress Emmy. It also was hailed the best comedy series by both the Golden Globes and Emmys, so yeah, safe to say this show is an award circuit favorite.
If you've never seen the show due to the fact that it's on Amazon Prime Video and not a typical cable network, this show constantly snagging so many nominations and awards may come as a shock. But it's also reason to try and get your eyes on an episode or two.
Fans of the show are so pumped about its Golden Globe nominations. They're also LOLing a bit considering the fact that the show's second season only came out this week.
Here are all of the categories The Marvelous Mrs. Maisel is nominated in, along with its fellow nominees:
Best TV series - Musical or Comedy
Barry
The Good Place
Kidding
The Kominsky Method
The Marvelous Mrs. Maisel
Best Performance by an Actress in a TV series - Musical or Comedy
Kristen Bell, The Good Place
Rachel Brosnahan, The Marvelous Mrs. Maisel
Alison Brie, GLOW
Debra Messing, Will & Grace
Candice Bergen, Murphy Brown
Best Performance by an Actress in a Supporting Role in a Series, Limited Series or Motion Picture Made for Television
Alex Borstein, The Marvelous Mrs. Maisel
Patricia Clarkson, Sharp Objects
Penélope Cruz, The Assassination of Gianni Versace: American Crime Story
Thandie Newton, Westworld
Yvonne Strahovski, The Handmaid's Tale
The second season The Marvelous Mrs. Maisel released on Amazon Prime Video earlier this week, and already fans are in love with the new installment of the series. Amy Sherman-Palladino's shows always build a massive universe with no stone left unturned when it comes to keen attention to detail, so it's hard not to fully immerse yourself into the world this period piece provides.
It's all about Midge Maisel — a New York wife who realizes she has a real talent for stand-up comedy. Her husband, being a '50s husband, didn't like the idea of her doing stand-up and it leads to some marital drama. But it's largely a hilarious show about Midge and her family with the kind of dialogue only Amy Sherman-Palladino can provide.
Given how well the show has performed at the Golden Globes and Emmys passed, it might be a good idea to get yourself acquainted with the show before the Golden Globes broadcast on Sunday, Jan. 6.