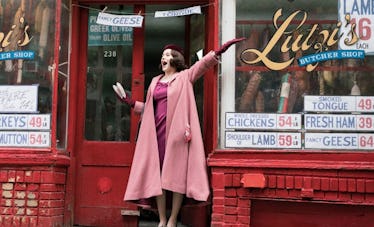 The 'Marvelous Mrs. Maisel' Season 1 Soundtrack Will Transport You To 1950s NYC
Amazon
If you're like me, you probably found youself watching The Marvelous Mrs. Maisel asking (likely more than once), "What was that delightful tune?" Amazon's hit Emmy winning series managed to discover just the right songs to serve as the musical background to Midge's journey. The series, set in 1950s New York following a housewife's new life as a standup comic, not only landed its witty zingers — it nailed atmosphere. From the costumes to the music, Maisel captures a feeling. Don't let the The Marvelelous Mrs. Maisel Season 1 soundtrack slip under your radar. It's chock full of throwback bops that are sure to put a little pep in your step.
The Marvelous Mrs. Maisel picked up a whopping eight Emmy awards for its freshman season. The series even nabbed a trophy for Outstanding Music Supervision at the Creative Arts Emmys. When it came to striking the uplifting mood and the vivacious attitude the title characer exudes, showrunner Amy Sherman-Palladino knew how important the soundtrack would be. She explained to Vulture:
Music has always been a little like a character to us. I put certain touchstones and songs in the show because I wanted Amazon to understand the vibe of the scenes. Barbra Streisand's "In Old Peking" was always in there, as was Anthony Newley's "A Wonderful Day Like Today." They had an exuberance and energy that talked about who Midge is. She's an exuberant and energetic character, and she looks at life like, 'It's a wonderful day! I'm up, my dress looks good, my makeup is perfect!'
Songs from the series include everything from familiar faves like Perry Como's "Papa Loves Mambo" to Peggy Lee's "Pass Me By." (Check out the curated tracklist on Amazon here. TuneFind has also compiled their own listing.)
Of course, a Funny Girl story like Midge's demands some Barbra Streisand. The legendary performer doesn't always allow her work to be used, but she made an exception for Mrs. Maisel.
"I don't license my songs very often, but I was impressed with how the show digs deep into the song catalogs of the era and doesn't just go with the obvious hits," Streisand told the The Hollywood Reporter. Her notable rendition of "Happy Days Are Here Again" has a memorable moment in episode four.
In true Sherman-Palladino fahion, melodies pair perfectly with the jubilant milestones or crushing disappoints that play out on screen. She is the creator behind Gilmore Girls, after all. Gilmore had an obvious knack for making a scene that much better through a musical choice. Nena's "99 Luftballoons" will forever be associated with Rory's day of birth. Gilmore Girls may have taken place in Stars' Hollows "Little Corner of the World" (to borrow a reference from the the Yo La Tengo track played in that series' pilot), but the goal of tapping into Midge's universe apparently had to think, well, bigger.
"What we really wanted to do with this show is use songs with big orchestration," Sherman-Palladino explained to IndieWire when discussing the vision for Maisel's soundtrack. "It's the big world that we're trying to recreate and bring back. It brands us a little bit, and it helps if you sit and you think about a scene."
The Marvelous Mrs. Maisel Season 1 is currently streaming on Amazon. Season 2 is expected to debut later this year.