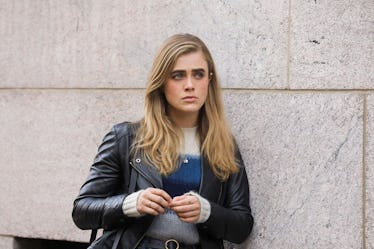 Next Week's 'Manifest' Promo Shows A Shocking New Twist
NBC
Manifest's episode this week pulled a little bit of bait-and-switch for the first time. After so many revelations about Unified Dynamic Systems in episode 6 "Off Radar," this week's "S.N.A.F.U." seemed to be bringing fans a villain in Fiona Clarke. But it turned out she wasn't in the dark as much as the rest of the passengers to what's happening behind the scenes after Flight 828. But even though she may not be the antagonist fans were looking for, the Manifest Season 1 Episode 8 promo for next week suggests answers are coming. Warning: Spoilers for Manifest Season 1 follow.
Next week's episode is entitled "Point of No Return," suggesting our characters are reaching a breaking point with this mystery, and whatever happens, they won't be able to go back to being ignorant after what they learn.
The synopsis also suggests things are changing in a significant way for everyone:
Ben forms an unlikely partnership with Vance in a high-stakes race to locate the missing passengers of Flight 828. Meanwhile, Michaela helps a suicidal passenger who believes he is the Angel of Death, and Cal goes back to school, navigating both his unwanted celebrity and his former friends, who are all now 16 years old.
And here's the trailer:
The trailer gets right to the point with Vance and Ben's relationship. After weeks of them at loggerheads, with Ben believing the NSA are the bad guys, Vance will reveal what viewers figured out a couple of weeks back. He's not just as much in the dark as those who were on the flight, in some ways, he's more in the dark about it, because they are working together, while Vance is surrounded by people at the NSA who don't believe him when he says something isn't sitting right.
Michaela's life as a detective has already been fraught due to her "callings." Now she's actually going to be confronted with one of her own from Flight 828. Fans have already seen the Stones are relatively lucky in what they came back to, in regards to family and friends still being there for them. For others, the transition back has been far harder, and the callings are probably much more frightening because of it.
Speaking of having families to return to, some of the promotional pictures for next week are very interesting, especially in light of Danny and Olive's continuing friendship and the longing looks Grace gave Danny from the front door this past week. Ben, who at this point cannot miss the family who allowed him to return still have feelings for the one who took his place during the interim years, is taking Grace out on what looks to be a very romantic date.
Will this be the glue helping their family stay together? Or is this more masking tape trying to hide the cracks in a slowly shattering family portrait?
Also, I vote Cal should be homeschooled. Raise your hand if you agree.
Manifest continues next Monday at 10 p.m. ET on NBC.