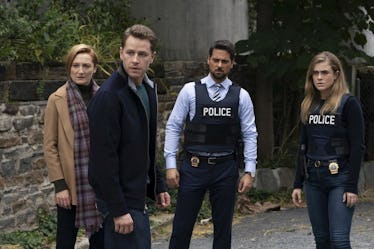 The 'Manifest' Fall Finale Promo Promises The Show Will End With A Bang
NBC
Manifest has been the success story of this TV fall season, coming out on top of all new broadcast scripted drama, and in the Top Five of all broadcast shows, period. Now, as the series rounds into the fall finale next Monday, the production is promising to go full premium cable show, and maybe kill off a season regular before 10 episodes have aired. If the Manifest Episode 9 promo is anything to go by, whatever happens, the show is going into its winter hiatus with a bang. Warning: Spoilers for Manifest Season 1 follow.
The title for the show's fall finale sounds like trouble coming from afar. Entitled "Dead Reckoning," it seems like whatever our passengers band together to face, not everyone is coming out the other side alive.
As for the episode's synopsis, it suggests whoever doesn't make it will have massive repercussions on those who do.
When Ben and Michaela put everything on the line to save the other missing passengers, the mission goes horribly awry, and not everyone makes it out alive. The devastating result pushes Ben and Grace to a traumatic brink while pulling Michaela and Jared dangerously close together.
Check out the fall finale trailer:
The good news is Ben's new partnerships both with Vance and Fiona are going to bear fruit much faster than fans might have anticipated. This week's episode was pretty accurate in how one goes around digging into corporate malfeasance such as the type United Dynamic Systems is involved in, but it wasn't a lot of action. This coming week, everyone will strap on the bulletproof vests, including Michaela and Jared.
As for Olive and Cal, this past week took some time away from the mystery feelings and voices and drawings and sent Cal back to school. It's one of the few times the show has really dug into the real world emotional implications of what happened to the passengers. Those itching for mystery might have tapped their feet impatiently, but the way kids grow so fast really added an extra oomph into demonstrating what disappearing for five and a half years in the space of a blink of an eye really means. If anything, it will make watching Cal return to being tortured by proxy all that much harder.
Speaking of being tortured by proxy, this week will introduce a new passenger to the roster: Autumn Cox, played by Shirley Rumierk. Part of the set of 11 missing passengers who may or may not be the origins of "the callings" Michaela and the others experience, her escape from UDS' lab of pain and torture looks to be the catalyst driving most of the action this week. With an ever-growing cast list, it will be interesting to see if she lasts more than this episode.
Manifest Season 1 is currently slated to run for 16 episodes, which is a little shorter than most of the shows on NBC. Once December arrives, fans will have to wait until the new year to see the final seven installments.