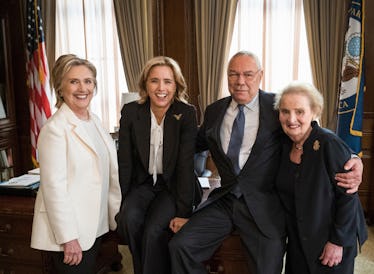 The 'Madam Secretary' Season 5 Premiere Will Guest Star Hillary Clinton & We Deserve This
CBS
Hillary Clinton's historical position as the first female candidate nominated by a major party for president was one that inspired women around the world. But it wasn't the only thing she inspired. The TV show The Good Fight, a spin-off of The Good Wife, was developed on the premise Hillary would win. (Then it had to retool when she didn't.) But no show is quite so evident in their inspiration than Madam Secretary on CBS, where a very Hillary-looking Téa Leoni plays the Secretary of State. Now they're paying homage with the Madam Secretary Season 5 premiere, which will guest star Secretary Clinton.
Clinton isn't the only guest star either. According to the photo, which CBS released this week, Leoni's character Elizabeth McCord, will not only interact with the woman who inspired her character but two other former Secretaries of State as well. The premiere will also guest star General Colin Powell, who served during George W. Bush's first term (2001-2005), and Madeleine Albright, who served under President Bill Clinton during his second term (1997-2000.)
Albright was the first woman ever to hold the position. She also became the highest-ranking woman in the history of the U.S. government when she took office. Powell was the first African-American to hold the office.
Speaking to Entertainment Tonight, series creator (and executive producer) Barbara Hall said having all three be willing to appear was a privilege.
We're delighted to have these three former secretaries of state be part of our season premiere. It was a privilege to experience their perspectives and discourse both in and behind the scenes.
Executive producer Lori McCreary was over the moon about it:
Having three powerhouses of diplomacy agree to come on our show is awe-inspiring and humbling. And that we were able to find a time in their busy schedules when they were all available is a miracle. We welcome Secretary Albright, Secretary Clinton and General Powell to the Madam Secretary family!
This is actually Albright's second time on the show. She first appeared in the series' inaugural season back in 2015, also playing herself. The show began after Clinton had retired from her post (she served under Obama during his first term, from 2009-2013), but this is the first time she's agreed to appear on the program.
Though Hillary's run was unsuccessful, Madam Secretary's producer McCreary admits they're still toying with the idea of eventually turning the show into Madam President.
When Barbara and I were first talking about what the pilot would be, we joked with [then-CBS Entertainment president] Nina Tassler that we'd do seven seasons of Madam Secretary and then we'd change the title to Madam President... We haven't really announced this to the world of Madam Secretary. We think it's going to be really fun to unpack what it's like to declare a candidacy, what you have to go through to get the nomination and hopefully, what it will look like if she does or doesn't finally run.
Madam Secretary Season 5 premieres on CBS on Oct. 7, 2018, at 10 p.m. ET.