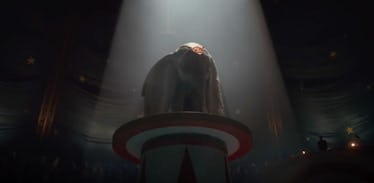 Watch Elephants Fly In The New Trailer For The Live-Action 'Dumbo' Movie
Disney/YouTube
Get ready to be transported to a mesmerizing place where elephants fly, because the live-action Dumbo trailer is finally here. The dazzling Disney spectacular helmed by Tim Burton is set for a March 2019 release and even though the brief first look is only a minute and 20 seconds long, you're bound to have tears in your eyes and a song in your heart after watching it.
The clip, released Wednesday morning by Walt Disney Studios Motion Pictures, kicks off with a hauntingly familiar tune — the somber "Baby Mine," from the 1941 animated version of the same name. (Gets me every time, man.) There's a glimpse of adorable baby Dumbo all covered in hay as he's discovered by Colin Farrell's character and his kids. "We're all family here, no matter how small," his daughter tells the timid animal.
After the trailer showcases vibrantly stunning shots of an elaborate circus, sweet elephant hugs, melancholy moments (oh dear, is that him or his mom being taken away?), and stunned faces, it all culminates in the main event — Dumbo's enchanting talent. He can fly! He can fly!
"In 2019 a beloved tale will take you to new heights," the teaser promises. I'm inclined to believe that, because it's already shaping up to look nothing short of magical.
Dumbo isn't a direct remake of the animated classic — it's considered a more of re-imagining or expansion of the original story. If you watched Dumbo growing up, you know it's one of Disney's darker stories.
"The [original] movie ends with Dumbo flying," star Danny DeVito explained at CinemaCon, according to TheWrap. "This movie begins with the elephant flying, and takes the story even further."
The live-action's synopsis is as follows:
Circus owner Max Medici (Danny DeVito) enlists former star Holt Farrier (Colin Farrell) and his children Milly (Nico Parker) and Joe (Finley Hobbins) to care for a newborn elephant whose oversized ears make him a laughingstock in an already struggling circus. But when they discover that Dumbo can fly, the circus makes an incredible comeback, attracting persuasive entrepreneur V.A. Vandevere (Michael Keaton), who recruits the peculiar pachyderm for his newest, larger-than-life entertainment venture, Dreamland. Dumbo soars to new heights alongside a charming and spectacular aerial artist, Colette Marchant (Eva Green), until Holt learns that beneath its shiny veneer, Dreamland is full of dark secrets.
At July 2017's D23 presentation, director Tim Burton referred to Dumbo as "one of my favorite of the Disney movies, and we are working to give this all the heart and emotion [of the original]." Burton was behind 2010's live-action Alice in Wonderland. The prolific creator actually started his career as an animator for Disney when he was just out of art school.
Will Smith was originally in talks for a Dumbo starring role, but the A-lister is now attached to another Disney live-action adaptation — Aladdin. The studio is currently producing a roster of updated versions of animated favorites. Aladdin, Lion King, Mulan, and Maleficent II are all slated to be rolled out for release over the next two years. Disney already found success with movies like The Jungle Book, Cinderella, Beauty and the Beast, and Maleficent.
There have repotedly been discussions about bringing Pinocchio to life, potentially directed by Paddington 2's Paul King. The Sword in the Stone is also in the works, as are Peter Pan, The Lady and the Tramp and The Little Mermaid. Regardless of which titles Disney chooses to retell, the studio is surely not halting the remake train anytime soon. I'm still holding out for The Brave Little Toaster, but whatever.
In the meantime, there's Dumbo to look forward to. The film is set to soar into theaters March 29, 2019.