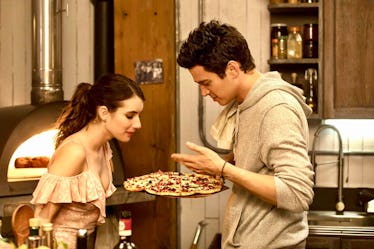 The 'Little Italy' Trailer Is Perfectly Cheesy & It Can Have A Pizza My Heart
Firsttake Entertainment
Just when I thought that rom-coms only existed on Netflix nowadays, a genuine, traditional romantic comedy is due out in theaters soon, and it may as well be branded as a love letter to pizza. Emma Roberts and Hayden Christensen star in Little Italy, a contemporary story about two former childhood friends who fall for each other despite their parents owning rival pizzerias in Little Italy. Sign me up! The Little Italy trailer may look perfectly cheesy, but I can't wait to take a bite out of this film.
With its own Romeo and Juliet-esque twist, Little Italy introduces Roberts' Nikki Angioli, who's pursuing a high-class culinary career when she's forced to return home to her family's restaurant. She eventually reunites with fellow local Leo Campo (Christensen), whose father owns a pizzeria that has always been in contention with Nikki's father's restaurant. Their budding romance leads them to fear that their families' feud will only worsen if the relationship becomes public knowledge.
Not only am I squealing over the leading role pizza has in this film, but the supporting cast is seriously the best. It includes Andrea Martin, who was an equally doting and interfering relative in My Big Fat Greek Wedding, Alyssa Milano, Danny Aiello, and Jane Seymour. Donald Petrie, who also directed Mystic Pizza, How to Lose a Guy in 10 Days, and Miss Congeniality, helms the film, so with its director boasting those credentials, Little Italy could have a perfect recipe for success. Has this movie partnered with any pizza restaurants to give viewers free pies yet or nah?
Seeing as the Netflix hit Set It Up made pizza look like the sexiest thing ever, it's only right that another rom-com creates the forum for the meal to become an even greater symbol of love. The Little Italy film poster even resembles one of those classic, spectacularly cheesy ads that every romantic comedy released in the early 2000s seemed to have. Traditional rom-coms may finally be making a comeback at movie theaters, and I'm thrilled if that's the case. But keep doing you, Netflix, I love your work.
Little Italy filmed in Toronto last summer, and while the trailer definitely hints that the film's setting is supposed to be New York's Little Italy area, Roberts told WWD.com in May 2017 that the movie was actually set in Canada.
It's a romantic comedy and the director is Donald Petrie, who did How to Lose a Guy in 10 Days, Miss Congeniality, and he worked with my aunt [Julia Roberts] in Mystic Pizza. It's going to be a really fun movie; it's one of those where you laugh, you cry, you smile. I feel like I haven't seen any of those movies lately and those are what I love... The movie is supposed to be set in Canada. So we are shooting Canada for Canada — shocking.
Also in May 2017, Roberts shared an Instagram photo of herself prepping for the filming of Little Italy, and while she made no connections to the movie at the time, the Little Italy Twitter account retweeted her post. Do you think her script got splattered with sauce at some point during filming?
Although there were previously some people campaigning for Netflix to buy the rights to the movie and add to its growing collection of original romantic comedies, Entertainment Tonight reports that Little Italy will be in select theaters and available On Demand on Sept. 21. Meanwhile, the trailer advertises its theatrical release as Aug. 24.
It sounds like Little Italy will be a perfect flick to celebrate the end of summer with. Fingers crossed that a sequel about a family vacation to Italy is in store if Little Italy takes off.