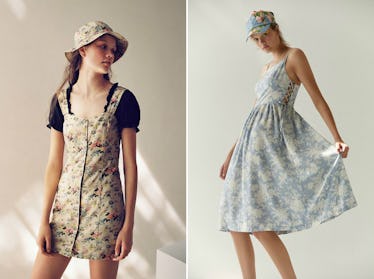 Laura Ashley & Urban Outfitters Dropped A Line Of Dresses, Because It's Basically 1999
Courtesy of Urban Outfitters
Breaking news: '90s trends are back! Just kidding, they've been back for a while now, but they're not slowing down and I couldn't be happier. One of the newest, most exciting '90s comebacks just debuted – it's the Laura Ashley x Urban Outfitters collab, and break out your platform shoes because you're gonna want to wear these clothes ASAP.
If you're thinking, "Wait, isn't Laura Ashley a home brand?" You're right. Laura Ashley is an interior design brand know for its beautifully busy floral textiles and prints. The company is still around and popular, but many millennials would say it had its heyday in the '90s. At least, that's when my generation most coveted having Laura Ashley bedding to go with your Laura Ashley wallpaper to match your Laura Ashley stationery. Bonus points if you also had Laura Ashley curtains.
One of the prints that Laura Ashley has come to be known for is its ditsy florals. You may not have heard that term before but a ditsy print is the name for a pattern where the (usually) flowers are particularly tiny and scattered throughout the textile in no particular order. It's an interesting print because it has become a somewhat preppy choice for home goods, while also representing a more '90s grunge fashion style. What do you get when you combine those two aesthetics, though? A collaboration with Urban Outfitters that will make you swoon.
Button-Front Mini Dress
A denim pinafore dress is class '90s. I'm pretty sure I wore something like this to my first day of second grade.
Lace-Up Midi Dress in Blue
The sexy lace-up sides of this dress pair well with its longer hemline. This dress is also available in ivory ($79; urbanoutfitters.com).
Denim Double-Button Mini Skirt
And here I thought a plain denim skirt was all I needed.
Top Knot Headband
To keep those sweaty flyaway hairs out of your face during these hot summer days.
Bow Scrunchie in Blue
These hair bow is actually a scrunchie, so no knot tying skills required. It also comes in ivory ($8; urbanoutfitters.com).
Launa Button-Down Shirt
Tie-front crop top FTW.
Alora Strapless Dress
Wear this on top of a t-shirt for an ultra-'90s look.
Leila Kick Flare Pant
Flared, cropped jeans are my favorite cut right now.
Lauralee Midi Dress
Catch me twirlin' in this dress for all the Instagram gifs.
Ribbed Knit Crop Top
The crop top of my dreams.
Silk Scarf in Yellow
This scarf, also available in a red and white floral pattern ($19; urbanoutfitters.com), can be worn in your hair, around your neck, or tied onto your bag. So many options!
Baseball Hat
The prettiest baseball hat I ever did see.
Bucket Hat in Neutral Multi
If there's no bucket hat, is it really a '90s collection? There's also a blue and white floral bucket hat ($25; urbanoutfitters.com).
Patti Mule Heel
I'm all in for any heel that looks like I can actually walk around in.
Canvas Crossbody Bag
I definitely used to keep all of my lip gloss in a bag like this, and I'm ready to do it again.