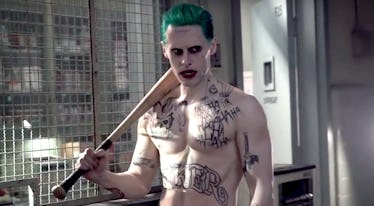 Jared Leto's Joker Is Getting His Own Standalone Film & I'm Already Terrified
Warner Bros.
Jared Leto is not done playing his iconic DC Comics villain yet. Warner Brothers Productions has announced that it is going ahead with a Suicide Squad spinoff movie centered on Jared Leto's Joker, according to Variety, which will open the door for even more DC Comics-based spinoffs from the 2016 supervillain caper. So what will this new Joker movie be about and when can we expect it to land in theaters? Let's go over everything we know about the newly announced spinoff.
Reportedly, Jared Leto is set to both reprise his role as the Joker as well as executive produce an upcoming standalone feature film centered on the psychopathic supervillain. The plot details of the still untitled movie are unknown right now, but the plan is to tie this Joker movie in with future spinoffs and sequels of Suicide Squad. The 2016 villain heist flick already has a sequel and a couple other spinoffs in the works aside from this Joker movie. Suicide Squad 2 is set to be released in 2019, and the studio is also working on a spinoff centering on Margot Robbie's Harley Quinn, which will be based on DC's all-female Birds Of Prey supervillain squad. The studio has also stated that it is looking into a spinoff for Will Smith's character Deadshot, but there have been no updates on that since it was announced at the end of 2016.
A standalone movie for the Joker seems to make sense after Jared Leto's relatively brief appearance in Suicide Squad following extensive promotion of the character prior to the film's release. The film heavily focused on its title team, consisting of Harley Quinn, Deadshot, Captain Boomerang, El Diablo, and Killer Croc, with the Joker only making a few appearances to try to win back Harley Quinn.
One thing that is for sure about this new movie: It will not be a Joker origin story. We know that because Warner Bros. is actually already working on an origin story movie for the Joker that is expected to star Joaquin Phoenix. Since Jared Leto will not play the Joker in that origin movie, the studio has confirmed that it will be completely separate from the current DC Cinematic Universe and the first of an entirely new origin stories banner that will recast the iconic characters with new actors to tell the stories of how they got their powers or abilities in the first place.
As for when this new Joker movie is coming, that is anyone's guess at this point. Although Jared Leto is reportedly signed on, he and the studio still need to get a writer to pen the script and attach a director. Leto is already confirmed to reprise his role as the Joker in Suicide Squad 2, which is due out sometime in 2019, so his standalone feature may come either before or after that. If the supervillain portion of the DC Cinematic Universe wants to keep things chronological (since it sounds like they are relegating their origin stories to another banner), then this new Joker movie could either serve as the connective tissue between Suicide Squad and Suicide Squad 2, or it could jump off from the final events of Suicide Squad 2.
And of course, there is also the question of whether this Joker standalone or any of the future Suicide Squad spinoffs and sequels will crossover with the Justice League portion of the DC Cinematic Universe. Suicide Squad included very brief cameo appearances from Ben Affleck's Batman, Ezra Miller's Flash, and Jason Mamoa's Aquaman, but every other DC film has yet to include the Suicide Squad villains and the Justice League heroes in the same picture. Maybe this Joker standalone will finally give us another iteration of Batman vs. Joker.