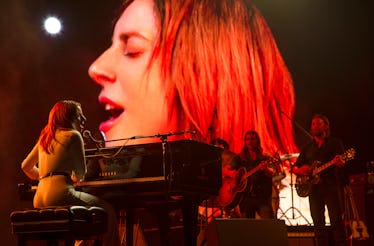 The "I'll Never Love Again" Lyrics From 'A Star Is Born' Are So Powerful
Warner Brothers
When A Star Is Born was released to theaters at the beginning of the month, it wasn't a secret Warner Brothers was gunning for Oscar glory with it. The film had done the proper film festival circuit, debuting at the Venice Film Festival before arriving in Toronto for TIFF, and then a slow roll release over September. This week, Warner Brothers announced which categories it will seek nominations for, to no one's surprise, no less than three songs are in the Original Song hunt. These "I'll Never Love Again" lyrics from A Star Is Born suggest it has the best chance to make it to the ceremony next year, if not the win.
Not that Warner Brothers is just aiming for Best Original Song. A Star Is Born is up for several categories, including Best Actress for Lady Gaga (and she will be billed as Lady Gaga, not as Stefani Germanotta). Bradley Cooper will seek both the Best Actor and Best Director nomination. The film will also go for Best Picture.
But there's a long Oscar season ahead, and those other categories could fill up quickly. Original Song, on the other hand, is one the movie most likely has on lock, but for which tune? Warner is banking on one of the following three: "Shallow," "Always Remember Us This Way," and "I'll Never Love Again."
As the tweet above notes, A Star is Born could land all three for nominations if the field remains thin. (Currently the biggest rival will be Mary Poppins Returns, but others may crop up.) Conventional wisdom currently assumes "Shallow," which got the official music video and pre-release push as a single would be the primary contender.
But consider the lyrics to the final song of the film, the closing "rock-esque" number, which Gaga performs as "Ally Maine" during the film's closing moments.
In reality, Oscar voters would probably rather not hand A Star is Born three nominations out of a possible five or six slots. "Shallow" seems a shoo-in to at least take a nomination, but it's already rocketed up and down the charts. "Always Remember Us This Way" is definitely the also-ran of the group, it comes in the middle of the film, and though Gaga knocks it out of the park, it is both less memorable than "Shallow" while failing to have an underscoring emotion other than "first sign Ally's about to run away with this thing and leave Jackson behind."
"I'll Never Love Again," on the other hand, has everything going for it. It's the final closing showstopper position, so it's the last song viewers hear before leaving the theater, it has lyrics summing up an emotional tribute to Jackson and Ally's story, and it has the one-two punch of Gaga's pop sensibilities over a country-tinged rock-and-roll tunebed. Also, it's written by Gaga, so even if she doesn't take home Best Actress, a win for this song would put her on the road to a possible EGOT down the line.