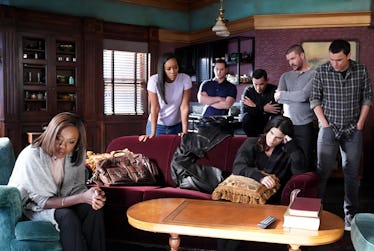 The 'How To Get Away With Murder' Season 5 Trailer Hints At The Newest Mystery
ABC/Mitch Haaseth
Since Grey's Anatomy recently earned itself a happy wedding without too much trauma, it only made sense that a similar plot on another TGIT series had to suffer. While How to Get Away With Murder has a wedding in store for the fifth season, we shouldn't count on every guest making it through the vows alive. ICYMI, the How to Get Away With Murder Season 5 trailer is out, and it hints that a major mystery is bound to mess with Annalise Keating.
Premiering on Thursday, Sept. 27, the fifth season of How to Get Away With Murder is definitely just as dark as its most recent years have been. After all, you can't produce a show with "murder" in the title and release light and fluffy content for too long. However, the first few seconds of the trailer briefly evoke the fresh, collegiate tone of Season 1 when Annalise finally returns to Middleton College after a stint in prison, getting reinstated as a lawyer, and facing the Supreme Court with her class action suit.
She enters her Advanced Trial Skills class with the same confident stride as her first entrance in the pilot episode, remarking that she wasn't even allowed on campus a few months ago. As she begins her tough love speech about the class being more of a sacrifice, we catch glimpses of the Keating Four (RIP, Wes) and Frank at other locations, seemingly breaking down. So much for this being just a typical, low-key semester.
As the trailer reveals that Connor and Oliver are officially tying the knot, blood-red cutaway print promises, "New beginnings don't always last." Annalise getting her groove on at the wedding reception is soon disrupted when she spots Frank across the room, looking perturbed. She confronts him, saying, "Why do you look like someone's just died?"
If I had a nickel whenever a character looked that way...
So, gone are the idyllic back-to-school vibes and funky wedding dancing, and in their stead is a budding mystery. We catch a glimpse of someone, most likely a woman, holding a gun, while fleeting shots of blood-soaked snow and Bonnie in tears also pop up. While it looks like another deadly twist is in store for the Middleton crew, the biggest possible mystery is connected to new character Gabriel Maddox, seen in the teaser asking a student if he's in the right class and later saying, "Once a person commits murder, something inside them is rotten."
He may seem very anti-crime with this statement, but according to showrunner Pete Nowalk, Gabriel is one to watch. Nowalk told TVLine, "[Gabriel] is probably our biggest mystery. He will factor in in a huge way, for all of the characters."
Nowalk also confirmed that viewers will learn in the season premiere if Laurel's mother Sandrine is alive or dead, moving the plot away from the Castillo family drama. He also dropped the hint that the premiere will include a flash forward, but now that we've seen the Season 5 trailer, his clue makes total sense. According to Nowalk, the flash forward takes place at "a big party… and something bad happens there."
What kind of party can be bigger than Connor and Oliver's wedding? The show could throw us for a loop, but it sounds like the premiere episode could end with a flash forward to Annalise and Frank's terse conversation at the reception. Perhaps we won't actually see the guys' wedding until later this season, and the first few episodes are meant to build up toward Frank's reveal of who is hurt or, worse, dead. If that's the case, I guess we'll have to contain all of our feels about Connor and Oliver getting married for a few more weeks.
Season 5 of How to Get Away With Murder premieres on Thursday, Sept. 27, at 10 p.m. ET on ABC.