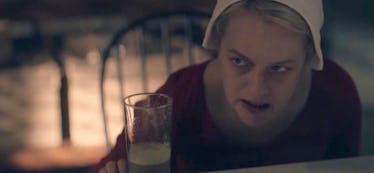 'The Handmaid's Tale' Wine Is Coming To Fulfill All Your Gilead Girls' Night Needs
Hulu
There are just some TV and movies franchises in this world that suggest they probably won't lend themselves to marketing very well. The Terror, for instance, which just finished airing their first season on AMC, is a show set in the 1840s about an expedition that gets lost in the northwest passage and everyone resorts to cannibalism. The Handmaid's Tale is also like that. Set in a dystopian authoritarian theocracy that overthrew the American government, capitalism just doesn't really seem to be its thing. But the show is popular enough to spawn The Handmaid's Tale wine, just in time to drink to the show's good health during their awards season run.
Update: After backlash, 'The Handmaid's Tale' wine line has been cancelled as of July 11.
The Handmaid's Tale is not the first series where there have been extraordinarily odd, if not utterly dissonant marketing tie-ins. The Hunger Games, for example, saw CoverGirl release makeup sets "inspired by" the fashion of the Capitol, even though the Capitol was supposed to represent horrible evil folly. Wonder Woman spawned thinkThin diet protein bars. And of course, there was that time Marvel Avenger's attempted to do a tie-in with Northrup Grumman as if the entire point of the Iron Man series and war profiteering never happened.
When it comes to shows that are difficult to market like this, the fallback is almost always alcohol. Both The Walking Dead and Game of Thrones have been marketing wines and beers for years. When traditional capitalism doesn't work, we can always rely on characters approving of us getting cheers-ing in their names.
According to People Magazine:
Beginning today, fans can purchase any and all of three Handmaid's Tale varietals at Lot18.com. Naturally, Elisabeth Moss and Alexis Bledel's characters, Offred and Ofglen, both inspired reds, while Yvonne Strahovski's Serena Joy is a white.
Because, of course, those who wear the color red to represent their blood and fertility and ability to bear children should be represented by good robust red wines that the rest of us can drink while eating steaks they are denied.
Offred gets a 2017 Pays d'Oc Pinot Noir. Her label describes it as 'rich and complex. Lush, fruit flavors of cherry and cassis are complemented by earthy flavors of mushroom and forest floor. We honor Offred with a wine that will stay with you long after you've finished your glass and a powerful experience you will never forget.'
Ofglen, one of Gilead's most rebellious handmaids, inspired a 2017 Rogue Valley Cabernet Sauvignon, 'a daring testament to the heights that Oregon Cabs can reach, featuring concentrated flavors of cherry, plum and coffee bean that give way to a warm, spicy finish.'
For those who aren't red drinkers, consider putting your pinky up for this Serena Joy white.
Serena Joy's 2016 Bordeaux Blanc is considered 'sophisticated, traditional and austere… While the wine may initially come off as restrained, a few sips reveal it to be hiding layers of approachable white grapefruit and lemongrass, backed by weight and concentration.'
The Handmaid's Tale should be careful, though. While wines are relatively safe when it comes to marketing, it can be a slippery slope. Game of Thrones, for example, is rumored to be partnering up with the sneaker company Adidas for Game of Thrones branded sneakers for the final season. I cannot imagine what the marketing campaign for that will be. "Run Away From The White Walker Hordes Faster?"
As long as the show sticks to alcohols though, they should be relatively safe from ridicule... even if no one is Gilead actually drinks because it goes against their religious beliefs.
All three wines are on sale starting today at Lot 18's website and will be available as long as supplies last.