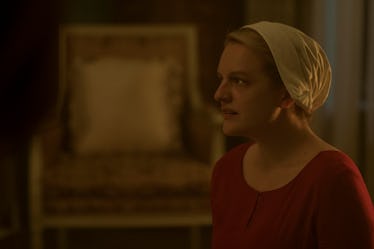 The Promo For Next Week's 'The Handmaid's Tale' Is So Intense, I'm SCREAMING
George Kraychyk/Hulu
Just when I thought The Handmaid's Tale couldn't get any better, it somehow does. After a hugely explosive sixth episode (more on that later), Hulu just dropped The Handmaid's Tale Season 2 Episode 7 promo, and it looks like things are about to get even more intense. Gun shots, new handmaid uniforms, and a sinister monologue from Aunt Lydia spell bad news for June and her Mayday co-conspirators in the second half of Season 2, so get ready to spend another hour cringing your way through the addicting drama. Is it next week already?
I thought I'd seen it all on The Handmaid's Tale after that Prayvaganza in Episode 5, but apparently not, because the Episode 7 promo opens with the scariest handmaid uniforms we've seen yet. Gone are the usual red robes and white wings: This time around, the women wear black robes and wings and a red scarf that covers their faces entirely. I'm a little unsure how the handmaids see or breathe with their face fully covered, but then again, Gilead doesn't care much about the handmaids' well-being, does it?
The dementor-like handmaids seem to be lining up for a funeral — potentially that of the handmaids who were killed in Ofglen's Red Center bombing at the end of Episode 6. As they line up behind red coffins (yeah, I'm definitely thinking this is for the fallen handmaids), Aunt Lydia gives another one of her creepy monologues. "I wish I could give you a world without pain," she says in that slow, fake-concerned voice. Is it too early to give Ann Dowd all the awards for her performance in The Handmaid's Tale Season 2?
Based on the promo, it seems like Ofglen's actions have affected more than just the handmaids. Everyone in the Waterford house seems on edge, including Serena Joy, who tells someone (it's not clear who) that "the Commander will forgive [her] trespasses." What exactly is she referring to? And how does it connect to the arrival of Commander Cushing, another Gilead boss who comes to the Waterford residence to interrogate June?
"Commander Cushing doesn't believe that I was taken against my will," June tells Serena, suggesting that Cushing is there to investigate her involvement in Ofglen's bombing (and Mayday's underground operations). "You'll need to answer his questions very carefully," says Serena. If June suggests, even for a second, that her disappearance wasn't a kidnapping, Cushing will connect the dots and indict June — and the Waterfords — for participating in the resistance. This is high stakes, people!
While it seems like Episode 7 will take place mostly in the present (unlike Episode 6, which focused heavily on Serena's fascinating past) the promo hints that fans will see at least one flashback in next week's episode. In the flashback scene, Moira and June discuss the possibilities of earning $250,000 "for a healthy baby." Later, a doctor asks Moira if she's "ready for this" as she hands over a baby. Either Moira is turning over her child to a family that can't conceive (remember that low birth rate problem?), or she acted as a surrogate to earn money. We don't know a lot about Moira's backstory outside of her friendship with June, so it seems like fans are finally going to get some much-needed insight into her character.
The promo ends with gunshots, potentially indicating that the fight between Gilead and Mayday is quickly approaching. "We need to find those among us who wish to do us harm," Commander Cushing tells June. The next thing we know, gunshots ring out and June covers her mouth to avoid making a sound. Could this be a warning about what happens to those who choose to do Gilead's leadership harm? Or are there people literally shooting at each other right outside the Waterfords' home? I don't know the answers to all these questions, but one thing is clear: June certainly cannot trust Cushing, no matter what he says to convince her otherwise (and TBH, he kind of does a bad job of convincing her).
So much is up in the air going into Season 2 Episode 7 that I don't even know what to think. At this point, I'm basically counting down the hours until the next episode of The Handmaid's Tale hits Hulu.