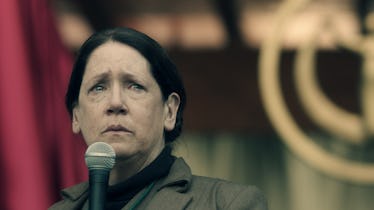 'The Handmaid's Tale' Season 1 Soundtrack Is Honestly One Of The Best Parts Of The Show
Hulu
The Handmaid's Tale is a show that I compare regularly to being punched in the face. The intensity of the series coupled with the subject matter would make for a captivating show even without musical accompaniment. But Hulu's flagship series also happens to have one of the most awesome, most rocking uses of pop music in a show in the last year. In honor of the show's impending return, let's run down the best songs per episode found on The Handmaid's Tale Season 1 soundtrack.
But before I begin, let us note that there is no actual The Handmaid's Tale Season 1 soundtrack album fans can buy that includes all the pop music references that occur throughout the show. There *is* a The Handmaid's Tale soundtrack, but that's the show's score, which was written by composer Adam Taylor and includes contributions by Elisabeth Moss for a couple of the tracks. That album is available via Amazon, as well as iTunes.
But for those looking for the rock and roll and pop music compilation, I'm afraid that's something that needs to be assembled by hand, either as a Spotify playlist or in your iTunes library.
Here's the best of the tracks and where to buy them.
Episode 1: Lesley Gore "You Don't Own Me"
The show starts out with a tune used in everything from Dirty Dancing to Suicide Squad. Here, it's a jolting capper to the opening episode, with an ironic rebellious message, playing over the end credits.
The song is from her 1963 album Lesley Gore Sings of Mixed-Up Hearts, and is available on Google Play and Spotify.
Episode 2: Simple Minds "Don't You (Forget About Me)"
This is (fans assume) what's playing in Offred's head after her first successful fact-finding mission with the Waterfords... only to step outside and discover Ofglen is gone, replaced by Ofglen 2. Suddenly the depressing undertones jump to the fore over the closing credits.
The track is the lead off from The Breakfast Club soundtrack and is available on Spotify and Google Play.
Episode 3: Blondie/Philip Glass "Heart of Glass/Violin Concerto" (Crabtree Remix)
This remix of the Blondie tune was used during the protest scene with June and Moira. It felt like a vision of all the fears of what could have happened at the 2017 Women's March, giving the show an urgency like nothing else.
This mashup version of the song was created by DaftBeatles and was released as a single in 2016. It's available via iTunes and Amazon Music.
Episode 4: Penguin Café Orchestra "Perpetuum Mobile"
This track, which comes towards the end of Episode 4, is used when Offred finally gets a taste of freedom. The piano track part you'll recognize from literally everything kicks in at about the 30-second mark.
The song is from the 1987 album Signs of Life and can be found on Spotify and Google Play.
Episode 5: Jóhann Jóhannsson "The Sun's Gone Dim"
The song that plays during Emily's failed escape when she hits the Guardian. Jóhannsson was well regarded for his soundtrack work, which earned him Golden Globes and Oscar nominations. He only passed away a couple of months ago.
The song is originally from the album IBM 1401, A User's Manual, and is available from Amazon Music as well as Google Play.
Episode 6: Nina Simone "Wild Is In The Wind"
There are several Nina Simone tracks dotted throughout the Handmaid's landscape, including "Sugar in my Bowl" and "Feeling Good," but my favorite is the 1966 track "Wild Is In The Wind" which does an excellent job conveying how unequal Serena and Frederick's marriage is, even if she doesn't know it yet.
The song is the title track of Simone's sixth album and can be found at Amazon Music and iTunes.
Episode 7: Cigarettes After Sex "Nothing's Going To Hurt You Baby"
This is the track that plays when Offred gets the note out to Luke in Canada that she's still alive, and for most was their first exposure to Cigarettes After Sex's downtempo vibe.
The song was from their original demo EP I., released back in 2012. You can get it from Bandcamp.
Episode 8: ODESZA "Bloom"
There are actually quite a few great tracks in episode 8, in the Jezebel club scene. The best of them is "Bloom," with runner-up going to Richie Poe's "Two Tree Island." (Sorry, Jefferson Airplane. "White Rabbit" is just overdone.)
The track was released originally in 2014 on ODESA's In Return. It's available via Google Play and Spotify. "Two Tree Island" is from Poe's 2012 album Echo Outernational, and is available via Soundcloud.
Episode 9: Hildur Gudnadottir "Heyr Himnasmiður"
The most depressing song in the series by far, this is the Ancient Icelandic hymn that's playing during Janine's threatened suicide/homicide threat when she realizes Charlotte will really be taken from her. A real "curl up in a ball and let the brainweasels play" type track.
The song was originally released on the 2014 album Saman and is available on Spotify.
Episode 10: Tom Petty & The Heartbreakers "American Girl"
Finally, the song that breaks in when the screen goes black at the end of the finale. Tom Petty's seminal track gets a whole new meaning when applied to an American girl trying to get out of Gilead any way she can.
The track is from Petty's 1976 album Tom Petty & the Heartbreakers and is available via Google Play and iTunes.