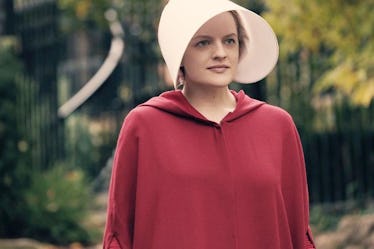 Praised Be, 'The Handmaid's Tale' Took Home 2 Golden Globe Nominations
Hulu
Even within a packed roster of possible candidates for Golden Globe recognition, The Handmaid's Tale managed to hold its own when nominations were announced on Dec. 6. ICYMI, The Handmaid's Tale 2019 Golden Globe nominations weren't as many as we may have thought, with the show scoring only two nods. But for the women of Gilead, any sign of recognition is definitely appreciated.
Despite winning the Golden Globe for Best Drama Series last year, Hulu's The Handmaid's Tale found itself missing from 2019's nominated list of prestigious dramas. Instead, four of the five recognized shows were nominated for their first seasons, while all five dramas were first-timers in that particular category. It says a lot about how much peak TV is out there when the lineup of dramas looks completely different from last year's.
However, speaking to the strength of The Handmaid's Tale's performances, Elisabeth Moss earned a spot in the Best Actress in a Drama Series category. Her co-star Yvonne Strahovski was included as a nominee for Best Supporting Actress in a Series, TV Movie or Limited Series. The 2018 Primetime Emmy Awards may have showered love on the show's other actors, but the Golden Globes apparently aren't the place for the stars to shine again.
Failing to score a series nomination a year after winning the ultimate prize isn't unheard of in Hollywood, but it is a little rare. The Handmaid's Tale being ignored for Best Drama has already hit the internet's lists of biggest Golden Globe snubs, but these slideshows have also pointed out that Season 2 generally didn't resonate with viewers as well as the first season did. You win some, you lose some.
This also wouldn't be the first time that the Golden Globes make a decision that doesn't really fit with the rest of the world's opinions. If you manage to hear winners tipsily thank the Hollywood Foreign Press Association during their acceptance speeches, you're already clued into why the Globes' results often differ from that of the Emmy Awards or Oscars. While people working directly on movies and TV vote to determine Emmy and Oscar nominees, fewer than 100 journalists at foreign publications select the Golden Globe nominees. Compared to the more prestigious award ceremonies, these picks come from an entirely different audience, so don't be too worried about The Handmaid's Tale's future chances for Emmy Awards glory.
Of course, scooping up two acting nominations is still a reason to celebrate. After taking home the Best Actress in a Drama Golden Globe last year, Moss could remain a steady favorite to repeat her victory. Meanwhile, first-time nominee Strahovski may find some luck at the ceremony after losing her supporting actress category at the Emmy Awards in September. Fans took to Twitter to cheer on Moss and Strahovski's nods.
The Globes won't exactly be a victorious blowout for the cast of The Handmaid's Tale, but given the ceremony's party atmosphere, I don't think they'll mind. Here's to the group rocking red carpet outfits without bonnets!
The 76th Golden Globe Awards air on Sunday, Jan. 6 at 8 p.m. ET on NBC.