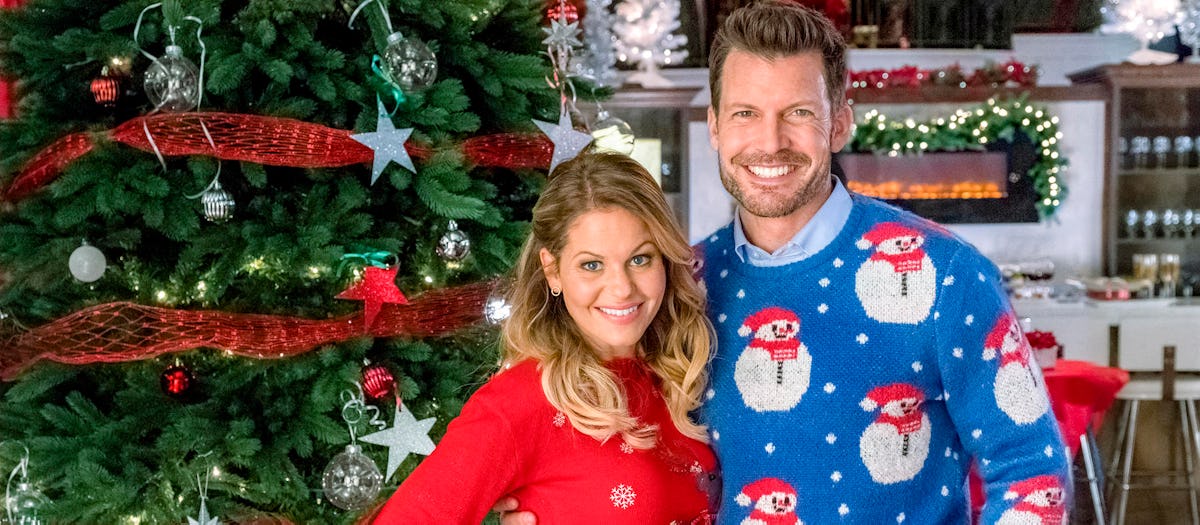 The Hallmark Christmas Movies 2017 Schedule Is Full Of Holiday Cheer
Hallmark
Christmas is coming, and the goose is getting fat. That must means it's time for Christmas movies! When it comes to the classic emotional, heart-string pulling, romantic camp of the holiday classics, no one does them better than the Hallmark Channel. It's why we call them "Hallmark Movies," because they were brought to us by Hallmark years before they ever had their own channel. So what's the Hallmark Christmas movies 2017 schedule like?
Well actually, the Hallmark schedule is probably wondering why you're so late to the party. They were so eager to start the most wonderful time of the year, they've been chugging out brand new Christmas movies since the last weekend in October. (Yes, *before* Halloween. Like, back when you were binging Stranger Things, they were already walking in a winter wonderland.)
But since some of us refuse to acknowledge Christmas until after Thanksgiving, because holidays are supposed to be done in order, the real majority of audiences are only tuning in now. That's okay, though! You may have missed the first run of the movies that premiered over the last month, but Hallmark's already rerunning them in between the new releases, so keep your eyes on the TV guide.
As we noted, Hallmark has actually been running their "Countdown to Christmas" movies since prior to Halloween. Our list will highlight all the new films for this month, but first, check out the list of what you've missed so far, and make sure to catch them on the rerun:
Here are the December premieres, with synopses:
Christmas In Evergreen
(Saturday, Dec. 2, 8 p.m. ET)
Holly Robinson Peete and Barbara Niven star in this movie about a veterinarian who wishes for her most romantic Christmas ever. What she didn't expect is that her wish would come true, not with her boyfriend, but with a businessman and his daughter whom she winds up stranded at the airport with.
Christmas At Holly Lodge
(Sunday, Dec. 3, 8 p.m. ET)
Sophie Bennett (Alison Sweeney) meets a family that changes her life during her annual trip to the Evergreen Inn and Ski Lodge, which she inherited from her parents.
Christmas Encore
(Saturday, Dec. 9, 8 p.m. ET)
A struggling actress (Maggie Lawson) falls back in love with acting (and in love with her director!) when she's cast in a modern production of A Christmas Carol. But when the theater loses its lease, she and the cast must find their own Christmas miracle.
Sharing Christmas
(Sunday, Dec. 10, 8 p.m. ET)
When a real estate agent, Anna (Ellen Hollman), wants to buy his old-fashioned Christmas shop, Michael (Bobby Campo) agrees to negotiate, but only if she spends one week working in the store.
Christmas Next Door
(Saturday, Dec. 16, 8 p.m. ET)
An author of bachelor lifestyle books (Tom Everett Scott) is tasked with caring for his young niece and nephew over the holidays. He turns to his Christmas-loving neighbor (Brooke Burns) for help.
Romance at Reindeer Lodge
(Sunday, Dec. 17, 8 p.m. ET)
A group of adults swear to not partake in holiday events, but when they arrive at their destination they reveal it's a Christmas-themed ranch.
Christmas Getaway
(Saturday, Dec. 23, 8 p.m. ET)
Due to a mix-up on the rental site, travel writer Emory (Bridget Regan) is forced to share her vacation cabin with a handsome widower (Travis Van Winkle), his daughter and mother-in-love.
When Calls the Heart: The Christmas Wishing Tree
(Monday, Dec. 25, 8 p.m. ET)
In this continuation of the series, Jack (Daniel Lissing) brings a young Mountie home to find his Christmas inspiration. Abigail's (Lori Laughlin) newly adopted son Cody (Carter Ryan Evancic) helps create the town's Christmas Celebration and Sheriff Bill Avery (Jack Wagner) forces a relationship with the former mayor, Henry Gowen (Martin Cummins).
A Royal New Year's Eve
(Saturday, Dec. 30, 8 p.m. ET)
A photographer is assigned to work on New Year's Eve with a new hire, to whom she confesses that she's never kissed anyone on New Year's. He decides to help her find the right man to kiss at the magical moment.
Happy holidays!