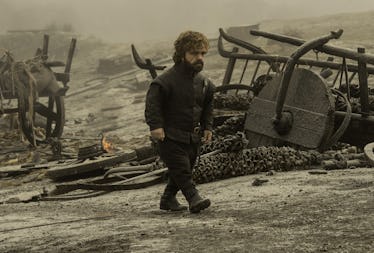 'Game Of Thrones' May Have Leaked A Spoiler About Tyrion That Will Make You Scream
HBO
The first rule of working for Game of Thrones is not to spoil Game of Thrones. One might think this was a given after nearly a decade on the air, but it's actually a lot harder than it sounds. There have been accidental leaks here and there like when Sophie Turner revealed she survived Season 7. Excitement is a spoiler's best friend, and in the glee of winning an Emmy, the Game of Thrones FX Team might've leaked a Season 8 spoiler.
The Emmys, which have over 120 categories to award every year, split their ceremony into multiple nights, with the bulk of the awards given out at the Creative Arts Emmys, held the weekend before the nationally broadcast Primetime Emmys. This year, Game of Thrones Season 7 has 22 nominations in all, seven for the Primetime broadcast and 15 for the Creative Arts ceremonies.
Of those 15, they took home seven, including Outstanding Special Visual Effects for Season 7's penultimate episode, "Beyond the Wall." This is their sixth straight win since Season 2 in 2012, out of seven nominations altogether. Backstage producers Steve Kullback, Sam Conway, and Joe Bauer and the rest of the team couldn't keep their excitement in.
And something else may have also slipped out too. Watch:
The three are palling around at the mic over how they all work together when Steve Kullback suddenly says "And we can't tell you in what episode Tyrion dies…or doesn't."
Now, he could have been kidding. And he may very well have been. But the tell isn't him. It's in how Bauer, Conway, and the other members of the team on the sidelines all freeze up for a second when he says it.
They could, of course, be freezing up because they know this moment is about to go viral. But Tyrion's death has been floating around as a potential spoiler for months.
Dinklage himself didn't help in a rare interview recently with Entertainment Weekly. Speaking about his character's feelings for Daenerys, Dinklage said:
No, ah, it's complicated… A lot of the time with Tyrion, it's professional and personal. Obviously, he has feelings for Daenerys. He loves her — or thinks he does. She's awe-inspiring. He's questioning that because he doesn't have a good track record for falling in love. There's jealousy wrapped up in there.
Some took this as a sign Game of Thrones would go the love triangle route for their final season, with Dany finding herself torn between Jon and Tyrion, but that's doubtful. There are only six episodes left, so there's no time for it, and besides, Jon already won the fight.
But it does add to the going theory Tyrion, torn between loyalty to Targaryen and Lannister, will wind up betraying Daenerys, especially if Jaime is involved. Will Daenerys end up executing her best Hand for betrayal? Or will Tyrion die guilty and alone, knowing whichever choice he made, he would always be filled with regret?
Game of Thrones Season 8 will return to HBO sometime in 2019.