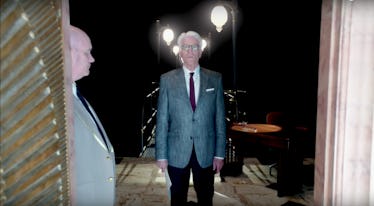 You Can Watch The First Scene From 'The Good Place' Season 3 Right Now
NBC
It has felt like an eternity since The Good Place threw its last inter-dimensional twist at us, but now we are only a few days away from finding out what life back on Earth will mean for the once doomed Eleanor, Chidi, Tahani, and Jason. But first, the metaphysical sitcom will show us exactly how Michael was able to complete his mission of saving his four human buddies' lives. NBC released the first scene of the new season online, and The Good Place Season 3 first look clip shows fans exactly how the mysterious third season will kick off.
As a reminder, the second season of The Good Place, which concluded at the beginning of 2018, ended with Michael convincing the all-powerful Judge (Maya Rudolph) to allow Eleanor, Chidi, Tahani, and Jason a second chance on Earth, in order to determine whether or not they really could become good people given a push in the right direction. The Season 2 finale showed us how Michael saved Eleanor's life by pushing her out of the way of her lethal shopping carts, but what about the other three humans? Well, Season 3 will start off by showing us Michael's side of those events.
The first scene from The Good Place Season 3 is all about Michael negotiating his trip to Earth with a new metaphysical being called the Doorman (guest star Mike O'Malley), who guards the portal to Earth. Once granted access, we see Michael push Eleanor to safety again, and also shout Chidi to safety from the falling AC unit, push Tahani clear of the falling Kamilah statue, and free Jason from the safe he once suffocated in. And Michael also got to take in some of Earths wonders along the way, being particularly amazed by a combination Taco Bell and Pizza Hut.
Check out the first scene from The Good Place Season 3 for yourself below:
But of course, this would not be The Good Place if this new scene did not also have some sneaky, underlying clues about later events as well. The introduction of the strict Doorman raises the question of how Michael was able to return to Earth months later, when we saw him pop up behind a bar to help a misguided Eleanor find her way back to Chidi.
The Doorman made a big deal about how his special, one-of-a-kind key cannot be duplicated. It sure seems like Michael may have pocketed that key after returning to Earth so that he could sneak back and forth as he pleases. That is only just a theory right now, though — we will have to wait until the premiere to see if it proves true.
The Good Place fans have even more to look forward to, because the upcoming Season 3 premiere will be double the size of its usual episodes. The two-part, hourlong The Good Place Season 3 premiere, which is called "Everything Is Bonzer!," will air on NBC on Thursday, Sept. 27 at 8 p.m. ET.