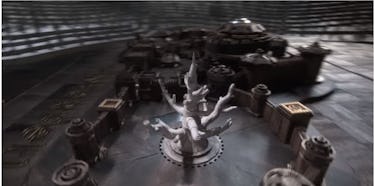 The 'Game Of Thrones' Season 8 Theme Song Credits Have A Ton Of Hidden Details
HBO
When Game of Thrones first premiered in 2011, it was immediately heralded as a hit, with audiences growing week to week. The one thing people seemed most struck by was the opening credits sequence, with the clockwork map laying out the lay of the land and the memorable theme song. Each year, the credits altered slightly, to show new locations, and remove disused ones. However, this year, the Game Of Thrones Season 8 theme song credits map has changed radically, to reflect a much different landscape.
Three places have always been on every variation of the credit sequence: Winterfell in the north, King's Landing in the south and the Wall, represented by Castle Black. There are then four additional locations that vary, depending on where characters are. In between, there are three Astrolabe carvings, depicting essential moments in Westerosi history: Aegon's Conquest, Robert's Rebellion, and the Baratheon reign.
This year, the astrolabe images are different, reflecting the tide of history washing away the old. The carvings now show newer historical moments all of which occurred during the current series. Also, with only a few locations this season, the credit sequence has radically altered how they are presented.
Here are the credits from Season 1:
Here are the credits for Season 8:
Here's a rundown of all the changes.