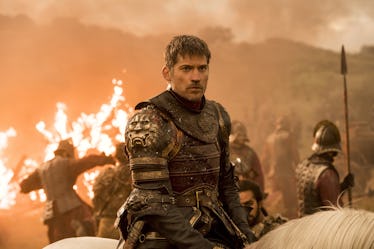 Nikolaj Coster-Waldau Says The 'GOT' Season 8 Scripts "Vanish" Like 'Mission: Impossible'
HBO
The release of Solo: A Star Wars Story has turned Emilia Clarke into a ubiquitous presence on television, magazines, and the red carpet over the past month. But while it may seem she's the only one on break from filming Game of Thrones, there are a few others who have been doing the publicity rounds themselves. This includes Nikolaj Coster-Waldau, aka Jaime Lannister, who not only granted a few interviews but discussed what it was like to film the final Game of Thrones season, including how the security was so tight Game Of Thrones Season 8 scripts would vanish once they were done filming scenes.
This past weekend was a newsy one for Game of Thrones fans, with the second annual Con of Thrones happening in Texas. Several members of the cast were on hand to give interviews, including Joe Dempsie (Gendry) and Hannah Murray (Gilly). But Coster-Waldau went a little bigger and headed off to France, where he spent time at the Cannes Film Festival this past month. Cannes is a major place where scripts, directors, and actors come together, so it makes sense he headed over there looking to see if he could book himself a gig now Game of Thrones is coming to an end.
While he was there, he was very forthcoming in a sit down interview about the end of the series. Footage from the interview has now made its way online. Check it out below.
One of Game of Thrones' biggest issues every season has been security, especially as the show has gotten bigger. Even in the early seasons, fans would flock to filming locations to grab pictures of the actors at work. But since Season 5 things have gone off the rails. Episodes leaked onto pirate sites and scripts leaked onto Reddit.
In response, this year, Coster-Waldau says, the show's security procedures have been over the top:
They're very very strict. It's reached a crazy level this year. We actually get the scripts, and then when we've shot the scene — and we only have it digitally — and then when you've done the scene, it just vanishes. It's like Mission: Impossible. 'This will self-destruct.'
Considering how much HBO and the Game of Thrones producers want to keep the final twists under wraps, this isn't surprising. There have also been rumors of fake scripts and false scenes filmed, but Coster-Waldau insists those rumors are overblown, and the only scripts he's had are the real deal.
Of course, the biggest worry viewers have is how the story ends. For some fans, this conclusion is one they've been waiting for since 1996, and after 23 years there's a concern the TV show won't be able to stick the landing under the weight of expectations. Coster-Waldau says not to worry.
I also know that we end the right way and the show ends on its own terms. When I read the scripts for the last season, I was like, 'Wow, they really pulled it off.' It's one story from season 1 to 9 and it makes sense.
Yes, Coster-Waldau does say "Season 9," but he's just misspeaking. Remember, Season 8 filming has gone on far longer than usual, and by the time Season 8 comes out, it will be nine years since the show started airing. This is not including the entire year spent filming the original pilot, which was scrapped. Coster-Waldau has technically been working on this role full time since summer of 2009. After a decade, it is easy to forget how many seasons he's done.
Game of Thrones will mosey back to HBO whenever it damn well pleases, sometime in 2019.