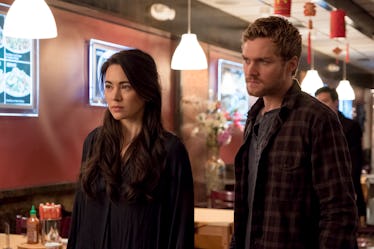 The First Photos From 'Iron Fist' Season 2 Are Here & Something Major Is Coming
Netflix
Iron Fist Season 2 made one of the biggest splashes for the Marvel TV universe at San Diego Comic-Con this past weekend. The biggest splash was the announcement of a release date. The series drops Sept. 7, 2018, on Netflix, not even three full months after Luke Cage's second season arrived. They also debuted the show's first trailer. As a follow-up, Netflix has released the first photos from Iron Fist Season 2 for fans to get excited about.
Iron Fist has undergone something of an overhaul since the disastrous first season back at the beginning of 2017. The show was not only accused of whitewashing the character but of casting someone who wasn't up to the rigors of the role. Finn Jones, who had done a great job on Game of Thrones as Loras Tyrell, was criticized for his lack of martial arts skills and the show panned for the painful looking fight sequences.
Part of this was due to the character's costume. Jones wasn't given this traditional outfit with a mask. Instead, Marvel chose to keep his face uncovered. The problem was, he couldn't be switched out with a stunt double, like they did with Charlie Cox over on Daredevil.
But Jones buckled down and spent months training for the second season. The results were first previewed in Luke Cage Season 2 when Jones turned up to fight side by side with Luke Cage in a one-episode cameo towards the end of the season.
His fighting only gets better with the new trailer. Check it out.
As for the photos, they reveal even though Jones has worked hard to improve his fighting skills and do his own stunts believably, the show is also hedging by giving Danny Rand a mask as Iron Fist. This is not the eye-mask of the comics, but a lower-half-of-the-face covering. It's still an opportunity to swap Jones out if there's a really major stunt.
He won't be wearing the mask much from the looks of it.
Let's just hope Jones keeps up with Jessica Henwick, who plays his girlfriend, Colleen Wing.
The photos also focus on the new cast additions, including a new crossover from Luke Cage, Simone Missick, who plays Misty Knight.
This was also previewed in Luke Cage Season 2 where Colleen Wing had a one-episode cameo appearance helping train Misty up after she lost her arm in The Defenders. Now it looks like Misty is returning the favor, and the two women might even be forming their comic book team "Daughters of the Dragon." Missick is listed not as a season regular but as a "Notable Guest Star," which suggests she will turn up as a one-episode special guest.
Jessica Stroup and Sacha Dhawan are both back from Iron Fist Season 1 as Joy Meachum and Davos respectively. They're pictured here with Season 2 newcomer Julee Cerda as Mika Prada. What's in the box, Mika?
Davos will also be going up against "Typhoid Mary" Walker, played by Alice Eve.
All 13 episodes of Iron Fist Season 2 arrive on Netflix on Sept. 7, 2018.