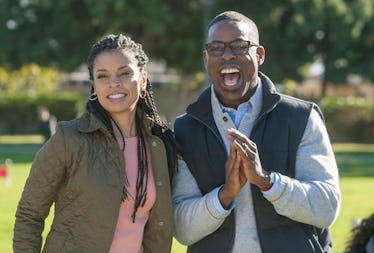 Beth From 'This Is Us' Gets Real About This Major Theory About Jack's Death – EXCLUSIVE
NBC
Awards season officially launched into 2018 with the 75th Annual Golden Globe Awards on Jan. 7 at The Beverly Hilton in Beverly Hills, California. It was a night of historic proportions; we laughed at Seth Meyers' snarky political hot takes, we cried at Oprah's standing ovation-worthy speech (nothing but respect for my president), and we sat on the edges of our seats, hopeful that one of our favorite actors would accidentally spill some tea about their show's upcoming season. While most actors kept their lips tightly sealed, Susan Kelechi Watson, who plays Beth on NBC's Golden Globe-nominated This Is Us, gave us a few new droplets of important information.
The heart-wrenching drama has a way of hitting fans where it hurts. The show has a relatable quality that gets fans hooked and an ongoing mystery that keeps them coming back: How did Jack Pearson die?
Audiences know the patriarch of the Pearson family tragically died in 1997, leaving his 17-year-old triplets behind. But what's left unanswered is how it happened. In the first episode of Season 2, we see a flashback of Rebecca Pearson (Mandy Moore) pulling up to a charred shell of her family home with Jack's belongings in a hospital bag. With this being the hardest evidence we have about Jack's death, all signs seem to point to the conclusion that he died in that fire. As the show flashes between the past and the present, we see the Big Three grapple with their grief in different ways, and fans are left to hypothesize and piece together information about Jack's death.
Elite Daily had the chance to speak with Susan Kelechi Watson, the actress behind Beth Pearson, on the Golden Globes red carpet and find out her thoughts on the ongoing theories:
You know what, I haven't read a lot of the theories but the funniest thing is that I remember somebody discounting the way that Jack died. And one of the ways they said was 'in a fire' and they discounted it; they said 'it's probably not a fire.' And I remember when they said it thinking 'huh, that's interesting... that's exactly what happened,' you know, after we saw the house burned down in the first episode. I found it funny seeing the things people say it couldn't possibly be.
So, does Watson confirm that Jack really did die in that fire? Should fans just accept that scene from Season 2 Episode 1 as the ultimate answer? Well, kind of.
Elite Daily went on to ask Watson about Beth's character arc in Season 2, and it turns out, she doesn't know much about where the story is headed. Her guess is seemingly as good as yours when it comes to Jack's death:
The rest of the season actually hasn't been written yet, so I only really know about two things that are going to happen: The journey with fostering is going to continue now that Deja is gone, and also we'll see what happens between her [Beth] and Kevin and how that relationship is or isn't repaired.
When audiences left the Pearsons after the midseason finale, Kevin was being arrested for a DUI. Unknown to him, Randall and Beth's oldest daughter, Tess, was hiding in his backseat while he was driving under the influence. We learn Tess tried to run away after feeling neglected by her parents, who were focused on their foster child, Deja. This gut-wrenching scene came after Deja, a character fans grew to love, left the Pearsons and went back to live with her mother. Our hearts didn't know which direction to break in.
Unfortunately, if there's anything you can bet on when it comes to This Is Us, it's a lot of dirty tissues and shattered hearts. Fans will just have to tune in to see if Susan Kelechi Watson is right about Jack's death when the show returns on Jan. 9.