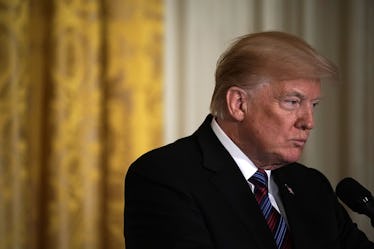 Donald Trump Is Going To Have To Pay Back Millions To Trump University Attendees
Alex Wong/Getty Images News/Getty Images
I get that President Donald Trump is a real estate mogul with a boatload of cash, but his next payout will reportedly be a really big blow that I'm sure none of us could ever fathom happening — no matter how wealthy we were. According to ABC News, Trump will have to pay a whopping $25 million to those who attended Trump University. IDK how he feels about this news, but I'm betting he's probably angrily prodding his Twitter fingers on social media right now to tell us all how unfair the final Trump University settlement is.
On April 9, Federal Judge Gonzalo Curiel finalized a $25 million settlement to be paid to the "victims" of Trump University, a now-defunct seminar that promised to teach attendees the ins and outs of the real estate business. Curiel had reportedly approved the settlement back in 2017, but it had been delayed after a Florida woman attempted to sue Trump separately. Now that her motion has been denied, the attendees are finally about to get what they're owed.
In a statement obtained by ABC News, New York Attorney General Eric T. Schneiderman said that the amount was much more than the number that had been included in the initial class-action suit, but expressed that he was glad the "victims" would be getting the "relief they deserved." The statement read,
Judge Curiel's order finalizing the $25 million Trump University settlement means that victims of Donald Trump's fraudulent university will finally receive the relief they deserve. ...This settlement marked a stunning reversal by President Trump, who for years refused to compensate the victims of his sham university. My office won't hesitate to hold those who commit fraud accountable, no matter how rich or powerful they may be.
Trump University was not actually a school, but rather a series of expensive real estate and entrepreneurship courses that stopped operations in 2010. While it promised to teach attendees Trump's "secrets" to real estate deals, students accused Trump of false advertising, saying that the courses were generic and the "university" didn't live up to its promises. Some said that they had been encouraged to take on credit card debt to pay for the expensive seminars. As a result, Schneiderman sued Trump in 2013 for allegedly scamming the attendees out of millions of dollars.
In November 2016, Trump's lawyers reportedly settled three of the cases for a total of $25 million dollars, but the payouts had been held up after a Florida woman tried to pursue her own lawsuit, according to The Guardian. In February 2018, the Ninth Circuit Court of Appeals rejected the woman's motion, which means that the payout is finally coming without any further derailments. The finalized settlement will reportedly cover around 90 percent of the costs accumulated by Trump University victims, ABC News reported.
But Trump has previously denied the false advertisement claims. During the 2016 presidential campaign he said "the people that took the course all signed — most — many — many signed report cards saying it was fantastic, it was wonderful, it was beautiful." In March 2016, he also told MSNBC that he had no intentions of settling the cases because he "win[s] in court." He said:
I don't settle cases. You know what happens? When you start settling lawsuits, everybody sues you. I don't get sued too often, because I don't settle cases. I win in court.
However, after the election, Trump said that he didn't have time to follow through with the cases due to his presidency, so he (finally) agreed to settle three lawsuits related to his university.
Though we're talking about $25 million here, at least this whole thing is over. Trump can move forward with his life, and the attendees of Trump University are one step closer to getting the solace and retribution that they've been seeking all of this time. If you look at it like that, it's a win-win situation for all. Right?
Maybe?