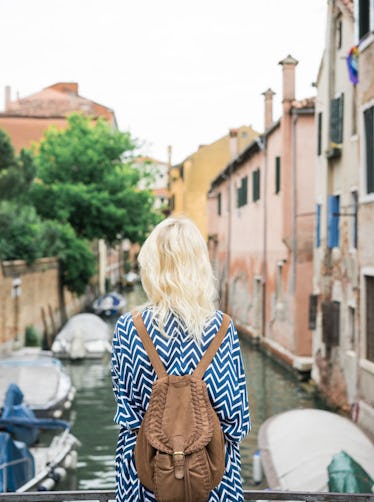 You Can Fly To Italy At A Major Discount With Emirates' Fourth Of July Sale
Patio season may be in full swing, but I'm already thinking ahead to the fall months when I'll be itching to dust off my suitcase and head to a faraway destination on my bucket list. Many of the locations on said list are best experienced after the summer, when temperatures aren't unbearably hot, prices are cheaper, and the crowds of tourists have thinned out. Enter the Emirates Fourth of July Sale, which is here to satisfy your wanderlust on the cheap. With incredible deals to destinations like Milan, Athens, and Dubai, you're not going to want to sleep on the sale of the summer.
According to Emirates, travelers from all 12 of its U.S. airport hubs can now expect to score major discounts on travel to almost 100 destinations around the globe from July 2 to July 8. In honor of the holiday, the Dubai-based airlines is offering fares as low as $549 round-trip for economy class travelers and from $3,529 round-trip in business class, and I'm ready to pack my bags. To sweeten the deal even further, the airlines is offering an extra $30 off the ticket price with a discount code if you book within the first 24-hours of the start of the sale, so there's literally no time to waste.
The cheapest tickets on Emirates' website seem to be from New York City, with low fares of $549 to Milan and $649 to Athens. Meanwhile, exotic locations like Dubai, Bangkok, Nairobi, and Delhi all ring in under $1,000, and it's such a steal. If you're willing to spend just a little bit more, aka under $1,200, dream destinations like Singapore, Cape Town, Bali, and the Seychelles can become a reality this fall. While everyone else is awaiting the return of PSL season and spending their 9-5 in the office, you'll be crafting the perfect "OOO" email and living your best life in a beautiful tropical location.
Not only will your destination be totally 'Gram-worthy, but you'll be flying over in serious style. Emirates is known for having one of the most luxurious First Class cabins in the world, so you'll be getting some serious perks at rock bottom prices for that level of comfort. It might be worth it to check out the deals on First Class tickets if a private room stocked with a mini-bar and a leather seat that transforms into a bed, a personal butler, and an onboard shower filled with luxurious Bvlgari products sounds up your alley.
In addition to the sales on flights, Emirates is also offering a couple weeklong all-inclusive getaways that start at just $1,800 for a stay at the Maldives' Kuredu Island Resort and Spa Hotel. Always wanted to go to Dubai? $1,900 will get you a seven-day stay at the Movenpick Jumeirah Beach. Meanwhile, all-inclusive luxury getaways to Bali and Thailand will set you back $2,215 and $2,425 per person.
As always, you'll want to make sure to check out the fine print before you book. First of all, you'll need to book before 11:59 p.m. ET on July 8 to score these deals, so you should get to planning ASAP. In addition, these deals are only valid for economy class travelers traveling from Aug. 24, 2018 through Dec. 6, 2018 or Business class ticket holders going from Aug. 10, 2018 through Dec. 13, 2018. Next year, you can also head to any of these destinations from Jan. 9, 2019 through May 9, 2019 with an economy pass. Meanwhile, Business class travelers can take advantage of holiday travel with a window of Dec. 24, 2018 through May 19, 2019. With all bookings, return flights must be completed before May 26, 2019, so you'll want to take that into consideration.
There are already some pretty great perks to visiting your dream destinations during the off-season, and Emirates' 4th of July sale is just the icing on the whole experience. The one caveat? There's no time to waste. You're not going to want to sleep on booking these deals, because they're only around for a few more days.