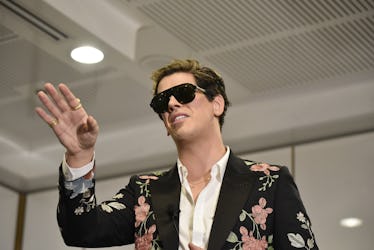 The Editor's Comments On Milo Yiannopoulos' Cancelled Book Rip Him Better Than You Can
Michael Masters/Getty Images News/Getty Images
Milo Yiannopoulos is back in the news again, but this time, it's because of what was said about him and not what the controversial "alt-right" associated figure has said about someone else. Yiannopoulos, who some regard simply as "Milo," has been in the midst of a legal battle that began in July over the cancelled publication of his book, an autobiography titled Dangerous. Like most legal battles, this particular lawsuit — against book publisher Simon & Schuster — has resulted in the release of details that might otherwise be kept private, namely the editor's comments of Milo Yiannopoulos' cancelled book.
To put it simply, the comments are a must-read, seemingly more so than the actual book itself. Many of the editor's comments rip Milo's opinions about different groups and arguments about different groups of people (the very arguments that have made him famous in the first place).
At one point, the book's publisher comments that the book needs "a better central thesis than the notion that gay people should go back in the closet." In another comment, the editor flat-out claps back at Milo's assertion that feminism is "merely a capitalist con-job – a money-grab designed to sell T-shirts to Taylor Swift and Beyoncé fans with asinine slogans."
The editor replied, "Um … like your MILO SWAG?"
It should be pointed out that the editor actually misrepresented Yiannopoulos' proprietary apparel. His line is, in fact, called "Swag by Milo."
Many of the comment were shared on Twitter by Sarah Mei, a verified Twitter user who describes herself as software engineer. Mei says she found the comments on the New York County Clerk's official website.
The Simon & Schuster editor who edited Yiannopoulos' book is Mitchell Ivers, who also expressed his overall thought on the book, and not just a comment on specific passages. "Avoid parenthetical insults — they just diminish your authority. Throughout the book, your best points seem to be lost in a sea of self-aggrandizement and scattershot thinking," Ivers wrote in a comment on Yiannopoulos' prologue.
At various points, Ivers reminds Yiannopoulos to be more serious about the work. "Add a short and serious statement there that sets out why you do what you do, without trolling, without bombast, without name-calling, and without ego," Ivers writes, while advising Milo on the book's preamble. This will make for a stronger opening than playing to your core audience."
At another point, Ivers reminds the author again that he is writing for a different audience. "In a book that will be read by people who don't share your POV, avoid gratuitous insults. They detract from the overall point you're making. In a lecture or Breitbart column, the audience already stares your POV and sense of humor," Ivers wrote.
Many screenshots of the editor's comments were shared on Twitter on Thursday.
The publication of Milo Yiannopoulos' book was cancelled in February. At the time, the former Breitbart editor was in the midst of a media firestorm, after the self-described conservative social media account "Reagan Battalion" circulated a video in which he appeared to condone child molestation.
The publisher had already given Yiannopoulos a $250,000 book advance, but the author would eventually sue for $10 million. "Rather than live up to the terms of its contract with Yiannopoulos to publish Dangerous, and despite pre-orders projected to propel the book onto leading best-selling book lists, Simon & Schuster wrongfully, and in bad faith, terminated the contract with Yiannopoulos in violation of its terms and canceled Dangerous under pressure from authors, bookselling accounts, business and special interest groups, celebrities, and various other self-appointed censors," the civil suit, which was filed in New York State Supreme Court, stated.
Because of that suit, matters regarding Simon & Schuster's decision to not publish Dangerous have no become public. Now, anyone can read the full text of the book, complete with its comments, in a document made available by the court.
Enjoy!