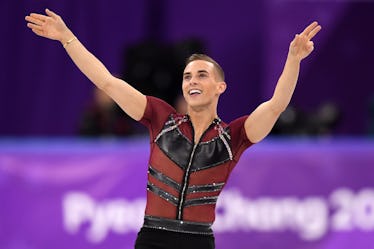 The 'DWTS' All-Athlete Cast Is Here & Adam Rippon Fans Are Screaming
Harry How/Getty Images Sport/Getty Images
When it comes to succeeding as a contestant on Dancing With the Stars, athletes usually have an understandable advantage over the rest of the cast's C-list reality stars and actors from 1980s sitcoms. If there is an Olympic gymnast or figure skater competing, they may as well scoop up the trophy at the start of the season. But for the ABC show's upcoming Season 26, the competition dynamics could be entirely different, as the network is constructing a cast of all athletes. Some of the DWTS all-athlete cast is here, and Adam Rippon fans particularly have reason to celebrate.
With the new season premiering on April 30 as a month-long "mini-edition," DWTS has yet to announce its full all-athlete cast, but according to Entertainment Tonight, PyeongChang Olympic figure skater Adam Rippon will compete as a contestant. Figure skater Tonya Harding, the infamous woman behind the Oscar-nominated film I, Tonya, and Olympic snowboarder Jamie Anderson will reportedly join him in the cast, but fans have long hoped that the highly meme-able Rippon would steal our hearts again on DWTS.
Naysayers were worried that Rippon's involvement wouldn't play out because the show's shortened schedule conflicts with the Stars on Ice tour. The tour, running from April 6 to May 20 and visiting more than 20 venues, includes several of Team USA's 2018 Olympic figure skaters, plus former Olympians such as Ashley Wagner and ice dancing duo Meryl Davis and Charlie White. With DWTS based in L.A. and the tour not hitting the West Coast until its last week or so, fans wondered if the schedule was just too crazy for Rippon to pull off. I know Olympians are basically superhuman, but even they can't handle that kind of timing, right?
Speaking to ET last month about the possibility of doing both, Rippon hinted:
I think it would be a great opportunity and it would be really fun. It would be really fun. I've always wanted to learn how to dance, because I've just been a solo act, like a one-man show. You know, it would be a crazy schedule. Like, the dates are all going on during the Stars on Ice tour, so it would be a lot of traveling. And I've never danced with a partner before. I think [my dancing skills] are more like solo skills.
It looks like Rippon is embracing the potential craziness to experience the DWTS unique opportunity. The openly gay athlete snagged a bronze medal in the figure skating team event in PyeongChang, but won over even more fans for giving hilariously real interviews and speaking out against Vice President Mike Pence and his views of gay rights. He and teammate and longtime friend Mirai Nagasu even hit the red carpet together at the 2018 Oscars, capping off what was a whirlwind few months of the Olympic experience.
Clearly, the fast-paced lifestyle isn't over for Rippon just yet. The specifics of how the shortened DWTS season may differ from a regular cycle haven't been revealed, but the figure skater's fans are already anticipating Rippon's return to TV.
DWTS viewers have also tossed out suggestions of which pro dancer Rippon should work with on the show. Sharna Burgess, who has yet to win DWTS with a celeb partner but has come in second place twice, seems to be the early favorite.
Seeing as the all-athlete edition is much shorter than the typical fall season, it's likely that the cast will also be smaller than the usual 13 celebrity-dancer teams. Harding's reported casting also seems to confirm that the pool of contestants isn't limited to the most recent Olympians. Um, in that case, Michelle Kwan, where you at?
The all-athlete edition of Dancing With the Stars premieres on Monday, April 30, at 8 p.m. ET on ABC.