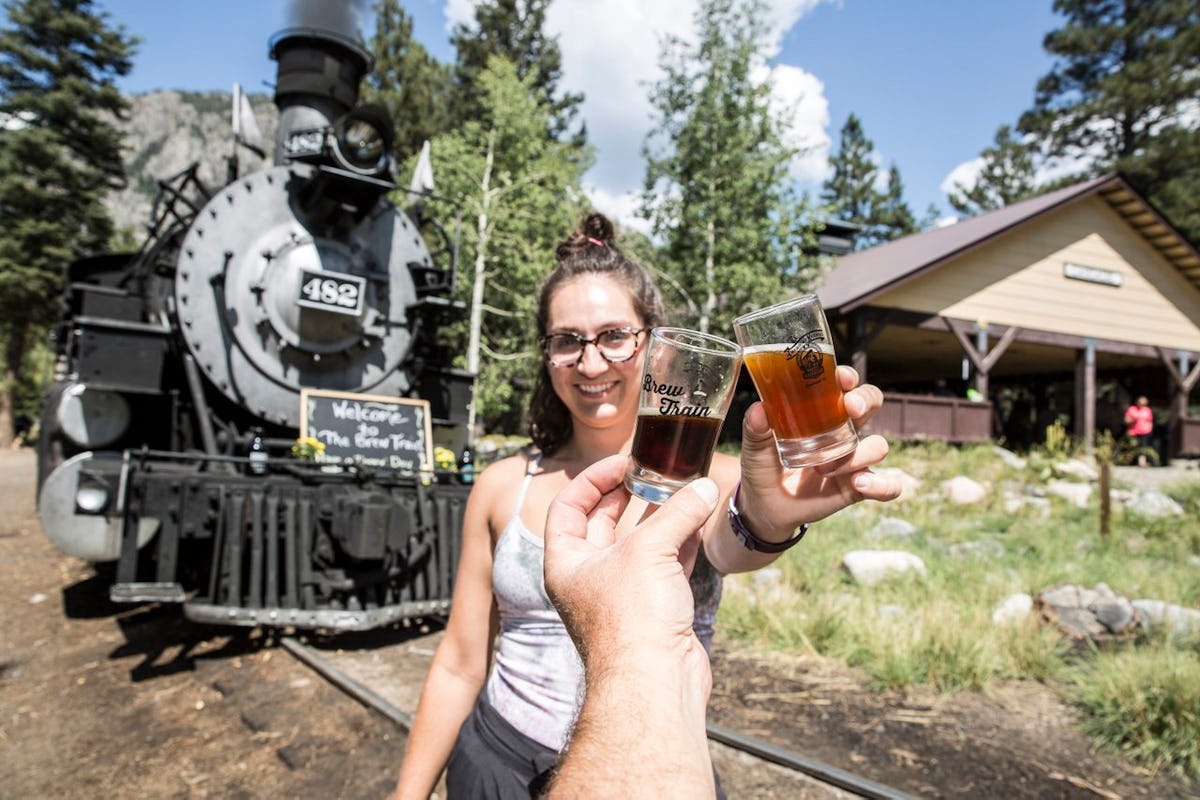 You Can Ride & Drink Craft Beer On This Scenic Brew Train, So Plan That Fall Vacay
Durango Train
For some reason, there's something special about traveling by train that is so incredibly charming to me (and no, I'm not talking about when you ride the subway and actually manage to snag a seat). I'm talking about good, old-fashioned, above-ground train travel. Train rides are usually super scenic, beyond comfortable, and - let's face it — it's an elegant AF way to get around town. As train travel remains to be a popular mode of transportation, there are several lines that provide fun themes and activities. My favorite, for example, is the Durango Brew Train in Colorado, which holds craft beer tastings. It's literally my dream mode of transportation, and I need to book a ticket ASAP.
If you haven't heard of Colorado's Durango Brew Train, you're missing out, because it's definitely a one-of-a-kind experience, per Travel + Leisure. After hopping aboard, passengers can taste local craft beers from local brewers (if you're 21 years or older), according to the Durango Train website. Throughout the trip, passengers will be able to try a variety of porters, IPAs, lagers, stouts, and other types of brewskies from many different Colorado breweries. During the ride, the on-board brewers discuss all things beer, naturally.
Meanwhile, the train glides hundreds of feet above the beyond-scenic Animus River, while passing gorgeous canyons, farmlands, old stagecoach roads, snowy mountain peaks, and maybe even some wildlife. If you're lucky, you could spot creatures like black bears and possibly even some elk. Don't forget to BYO camera and binoculars, my beer-lovin' friends, because this trip is most definitely worth documenting.
The Durango Brew Train itself, according to the Durango Train website, is a vintage 1920s steam train, which is sophisticated-as-heck. At one point, the train even stops by the Cascade Canyon for a two-hour party, and it honestly sounds like it came straight out of a chapter from The Great Gatsby. Complete with local, live music, giant pretzels, and (obviously) loads and loads of beer, you'll feel just like Miss Daisy, dancing the night away. So cheers to that, old sport.
If you do decide that you want to book a seat on the Durango Brew Train, you should make sure to look up when it's running ahead of time, and book your tickets ASAP, according to the Durango Train website. You must also be 21 years or older to board the boozy train. Unfortunately, the Durango Brew Train runs very infrequently — about once or twice a year — due to inopportune weather and land conditions. In 2018, for example, there's only going to be one trip, due to mudslides. It departs on Sept. 29, and if there are still seats, you'll be able to ride premium for $169, and standard for $109. The final prices really aren't that exorbitant. Plus, with endless amounts of beer, you will most definitely get your money's worth. I can guarantee it.
I usually find train travel to be pretty fun, scenic, and relaxing. However, when there's a giant beer tasting involved — as well as gorgeous Colorado scenery and live bands — having a good time is practically inevitable. Don't forget to bring your party hat, though, because the next train is leaving in just a few short weeks.