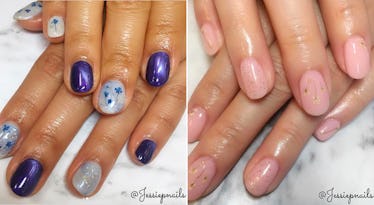 The Dried Flower Nail Art Trend Is Blooming All Over Your Instagram Feed
When I was in high school, after any school dance or any event that required a corsage, my mom would always try to convince me to save the flowers and press them in a telephone book using parchment paper. According to her, I would want them later. At the time, I couldn't quite figure out what I would possibly need those pressed flowers for, but after seeing the dried flower nails trend up and down my Instagram feed, I now know how I could've used the petals from all of those corsages.
OK, well, while I no longer have a telephone book (shoutout to Google) or those old, dried-out blooms from my high school years, I am willing to dry out old flowers from the corner bodega in the name of this latest trendy nail look. More importantly, my mother will be thrilled to learn that her obsession with keeping old flowers is now being repositioned as a beauty trend.
Essentially, the dried nail trend involves taking teeny tiny dried out flowers and adhering them onto the nail as nail art. By the looks of it, petals from the carnations and roses from all of those homecomings, proms, and winter formals might actually be too large to recreate the dried flower nails look. Instead, the trend incorporates literally the smallest little flowers you can imagine.
After scrolling through the Instagram feeds of various nail technicians trying out the dried flowers trend, it seems most of nail pros start with primarily light colors as a base coat, so that the petals and flowers will pop. Then, in each design, the blossoms are delicately placed on the nail beds and sealed off with a top coat.
To get the full rundown of how exactly this look is created, I enlisted the help of one of the masterminds behind the trend: New York-based nail technician Jessie P. And yes, the process seems to be just as painstaking as it looks. "The dried flowers come in like a bunch together, so I usually have to use tiny scissors to cut them piece by piece and place them on the nails with a pair of tweezers," says Jessie. "I would say, because the flowers are so intricate, they're really difficult to work with. Sometimes, I need to cut like five pieces out and only two of them will be usable if I'm going for a certain look. And sometimes, the petals will fall off when I try to seal them with the gel."
When it comes to sealing the dainty petals in place, Jessie explains that she uses a gel polish as an overcoat for the design. "I usually use structure gel to dome over the flowers so the nail will stay smooth to touch."
As you can tell from Jessie's explanation of the process, creating the dried flower nail look is not for the faint of heart, nor is it for someone whose patience is limited. If you're looking to recreate the tiny blossom look yourself, just keep in mind that patience, attention to detail, and the ability to work with small, intricate tools will lead to the most beautiful, floral nail beds. Godspeed, nail enthusiasts!