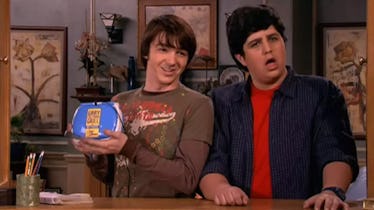 The 'Drake & Josh' House Has Officially Been Demolished, & So Has My Childhood
Nickelodeon
Who would have thought that out of all of our childhood TV shows, Drake & Josh would cause us the most post-show angst? First, there was the heartbreaking drama of Josh Peck not inviting Drake Bell to his 2017 wedding. Et tu, Josh? Now, in case you needed any more reminders that you're getting old and nothing is as simple as an afternoon of watching Nickelodeon anymore, you'll no longer be able to find the exterior of the main characters' home in California. The Drake & Josh house was demolished, and I think my childhood was destroyed alongside it.
Although indoor shots of stepbrothers Drake and Josh at home were filmed on a Nickelodeon on Sunset soundstage, outdoor glimpses of their house that episodes often opened with were filmed at an Encino, California home throughout the 2004-2007 series. Such is the case for the majority of sitcoms and the homes seen in them, and I bet the Drake & Josh house received its fair share of visitors raised on the show over the years. It probably wasn't too difficult for people to have "found a way" to the location.
This weekend, Bell, now 32, posted a video on Twitter of him visiting the site of the house, but the Nichols-Parker home was no longer. As Bell pointed out in the clip, only its brick mailbox remains.
According to E!, the home, which was originally built in 1976, was sold this February for $1.55 million. However, it's apparently fairly normal for buyers in the Los Angeles area to tear down recently acquired properties and build their own new home. Clearly, no one told those buyers how special that house was to thousands of millennials nationwide.
Fans who follow Bell didn't take the news too lightly, commenting with Drake & Josh GIFS and obviously putting the blame on Drake's mischievous little sister, Megan. Who left her alone at home, guys?!
Bell previously alluded to the house's fate in May, when he shared a photo of the site under construction and wrote, "Nooooooo!!!!!!"
I'm not saying that these glory days of Nickelodeon are officially gone, but it certainly sounds like it. The Nickelodeon on Sunset studio where the rest of Drake & Josh was filmed was also demolished in December 2017. All That, iCarly, Kenan & Kel, Ned's Declassified School Survival Guide, The Amanda Show, and Victorious were among the Nick shows that filmed there. There doesn't seem to be any official decisions about what happens to the space next, but a Nickelodeon news blog talks about unconfirmed rumors of James Corden moving his CBS show onto that land.
At the time of the studio's demolition, Victorious star Victoria Justice posted her own video commemorating the loss of the location and sharing memories of filming with her castmates. Her reminiscing is heartbreaking, but I'm certainly down for this trend of former Nickelodeon stars posting footage of themselves at sites linked with their old shows.
Ugh, remind me again why we all need to grow up?
Although things seemed bleak between former co-stars Bell and Peck when Bell didn't score an invite to Peck's wedding, Bell cleared up any rumors of a dispute a few months after their June 2017 "feud." In September, he posted a photo of the pair together on Twitter and wrote, "I freakin love this guy!"
Aww. Brothers forever. The Drake & Josh house may be gone, but by all accounts, it looks like the men who made the house what it was are still friendly. Thank goodness, too, because I couldn't handle knowing that everything Nickelodeon-related is just in literal shambles today.