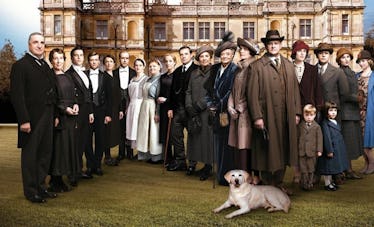 A Ton Of Brand New Faces Just Joined The Cast Of The 'Downton Abbey' Movie
PBS/ITV
It's really happening, Downton fans. Since the beloved Emmy Award-winning Downton Abbey shut the doors to the Crawley family estate in 2015 when the show came to an end, audiences have been waiting patiently for the powers to be to bless them with a film. The movie is officially shaping up, and it's even adding some new cast members into the mix for its movie debut. The Downton Abbey movie cast just announced that a handful of fresh faces are joining the esteemed actors already signed on. Let's hope the Dowager Countess approves.
Imelda Staunton and Geraldine James are among the latest names attached to the Downton cinematic experience. Actors are David Haig, Simon Jones, Stephen Campbell Moore, Kate Phillips, and Tuppence Middleton will also round out the anticipated upcoming project. Anyone familiar with the Harry Potter franchise will recognize Staunton as Dolores Jane Umbridge. The British theater vet has appeared in Nanny McPhee and Shakespeare in Love even received an Academy Award nomination for her starring performance in 2004's Vera Drake. Geraldine James is currently starring in Netflix's Anne with an E and other credits include Alice in Wonderland and TV's State of Play.
Production for the Downton Abbey film will supposedly get underway shortly. Cast members Hugh Bonneville, Laura Carmichael, Michelle Dockery, Joanne Froggatt, Elizabeth McGovern, and Maggie Smith are all set to reprise the roles they originated in the television version, according to reports. Smith famously portrayed Professor McGonagall in the Harry Potter film adaptations, so it looks like an HP reunion will take place courtesy of Downton's big screen revival.
Downton Abbey ran for six seasons from 2010 until 2015 and followed the dramatic lives of the aristocratic Crawleys and their domestic servants at their Yorkshire country estate in the Edwardian era. Much to the delight of viewers missing the acclaimed series, a full-length movie was confirmed in July of 2018. Julian Fellowes, the show's creator and writer, is behind the film's screenplay. Brian Percival will direct.
"Since the series ended, fans of Downton have long been waiting for the Crawley family's next chapter," Peter Kujawski, Focus Features chairman, said in a statement. "We're thrilled to join this incredible group of filmmakers, actors and craftspeople, led by Julian Fellowes and (producer) Gareth Neame, in bringing back the world of Downton to the big screen."
Of course, the question remained: Which cast members would be down for more Downton? Many of the show's stars expressed their enthusiasm upon the news' unveiling.
Dame Maggie Smith has been openly skeptical about continuing the story through film in the past, but it appears the legendary performer has come around.
"I just think it's squeezing it dry, do you know what I mean?" she remarked in 2017, via RadioTimes. "I don't know what it could possibly be. It was so meandering, what would you [do]?"
One actress who won't be returning for the movie? Lily James, who has skyrocketed to fame since her Downton days thanks to hits like Mamma Mia! Here We Go Again, Baby Driver, and Cinderella.
"My character Rose moved off to New York, so it would be farfetched to bring her back," James explained to People. "I would have loved to have come back for a scene, but for a movie it can't be like a Christmas special and it needs to be a focused storyline. There was no space for Rose."
James' absence only makes room for other characters to fall in love with.