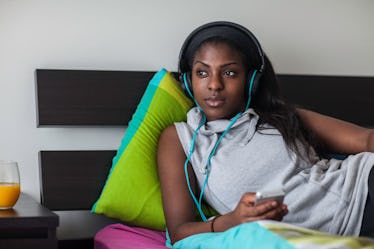 This New App Is About To Revolutionizes The Way Women Masturbate & Do Self-Care
What's your self-care routine? I usually go to the salon to get my nails done, put on a face mask on, grab a good book, or hop into a steamy bubble bath. On an especially good night, I'll also throw in a FaceTime with someone I love. But my self-care is missing one thing: sex appeal. And the Dipsea app is here to change that once and for all.
Founded this year by Gina Gutierrez and Faye Keegan, Dipsea is an app that gives its users a library of short audio stories that range from "narrative sexy stories" and "non-narrative guided pieces." According to one review written by Rebecca Jennings for Vox, the app is "like a much hornier Headspace."
But don't think of it as porn. Instead, Gutierrez and Keegan have created this sexual content app that also serves as a form of self care.
"We don't just think that this is an end, like, 'let's get you aroused,'" Gutierrez tells Vox. "That end could be feeling more alive and awakened. That could mean feeling more in touch and connected with your body. That could mean feeling more connected to a partner. That could mean feeling more flirtatious before a date. And then, of course, there's the classic use, and I'm sure people can [use] this to masturbate. Which of course you could as well."
Of the more than 50 five to 20-minute long stories currently on their ever-growing app, a rep for Dipsea tells Elite Daily that they've divided their content into a few categories for you to choose from depending on your mood or the moment, including "Hot & Heavy", "Partner Listening", and "Relax & Unwind".
"Dipsea's stories are designed for many moods and moments, to meet women wherever they are – whether it's getting excited before a date, enhancing intimacy with a partner, or turning off boss brain on the way home from work," the rep tells Elite Daily.
In fact, Dipsea is so devoted to catering to your every mood that it helps you choose what to listen to by giving you the option to input your location and your goal, as you can see below.
So, how do they come up with their content? In other words, who's behind the empowering story making you feel sexy, the chill story helping you unwind, or the steamy story getting you and your partner ready to jump each other's bones?
The rep tells Elite Daily that the people over at Dipsea HQ have managed to curate a diverse group of writers and actors in order to serve any and all preferences their users may have.
"Our story studio acts as the hub for a community of voice actors and freelance writers with diverse backgrounds, perspectives, and preferences," she tells Elite Daily. "Our studio curates the written content submitted to us, and helps writers' craft their stories thoughtfully for both Dipsea, and for audio."
I have to admit, you guys. I love this concept. I love everything about it. Why? Well, because I think we all reserve the right to feel sexy in our skin. And feeling like that shouldn't happen just when we're having sex or when we're getting romantic attention from another person. No, feeling sexy should happen whenever we damn well please. And this app finally lets us do that.
Download Dipsea now to get three free stories along with your free trial. To access unlimited content, the app requires you pay a minimal $5.99 monthly fee if you choose an annual subscription. If the annual fee sounds like a big commitment, they give you the option to pay $8.99 on a month-to-month basis. Happy listening.