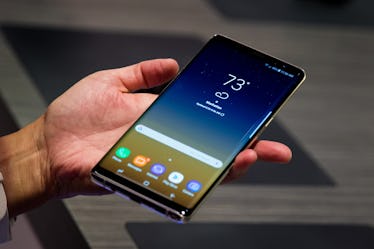 Comparing The Galaxy Note 9 & The iPhone 8 Has Me Considering A Change
Drew Angerer/Getty Images News/Getty Images
I'm going to be real here: I am a die-hard iPhone loyalist. Like, me and my iPhone 8 are legit soulmates. Ask anyone and they'll tell you that its fast performance, perfect size, extensive battery life and "Do Not Disturb" feature have all truly changed my life. But there's a new gadget on the block that everyone's been super hyped about — the Galaxy Note 9 — which, in turn, has even me wondering about swapping it up. So, what's the difference between the iPhone 8 and the Galaxy Note 9? If you're anything like me and are on the fence about making the swap, you'll wanna keep reading to catch up on all the distinctions.
The Galaxy Note 9 is the latest phone from Samsung, which debuted on Thursday, Aug. 9. The device comes with several stunning changes, including awesome specs and a wide array of useful features. Although the screen of the phone is about the same size as its predecessors (6.4 inches of screen space), it's way bigger than the iPhone 8, which has a screen size of just 4.7 inches. Additionally, the new gadget comes equipped with a signature S-Pen stylus that's equipped with Bluetooth, so the button allows users to control their music, answer calls, take photos and more. The iPhone 8, however, doesn't have its own stylus, so you'll have to deal with using the phone the good ol' traditional way (that's your fingers) if you stick with it — for now, at least.
The battery capacity of the Galaxy Note 9 is also killing the iPhone 8's. Prior to the note's release, Samsung said its battery "will increase its capacity" and last all day, and the company definitely didn't lie. The Note 9 has what the company called an "all-day battery," with a capacity of 4,000 mAh, while the iPhone 8's stands at 1,821 mAh — which'll really factor in when you're playing Fortnite. Yes, you read that correctly: the massively popular game is available on the Galaxy Note 9, giving its users the opportunity to play with their friends on the go. (!!!)
Then, there's the camera. The Note 9 has a dual-aperture camera, which means buyers will have the capability to take some really fantastic shots, even if they're not professionals. The Note 9 also has an "intelligent camera" to minimize blurriness or shaky hands. The iPhone 8, on the other hand, doesn't have a dual camera. But it does have optical image stabilization, which helps keep your shots steady when your hands are shaky, and 12 megapixel sensor, so that's still something worth celebrating.
So how do these bad boys fare when it comes to pricing? According to Android Authority, the Note 9 is starting at a hefty $999, with models with more storage running up to over $1200. The price is higher than the iPhone 8's $699 pricetag, so in the end, it really comes down to the features you can and can't live without. If FaceTime is major to you, for example, you might wanna sit this one out (although Fortnite really is convincing AF).
If you've got your eye on the Note 9, it should be available for purchase online and in stores starting on Friday, Aug. 24 — but whatever you decide, you really can't lose with such good options. So good luck and happy shopping!