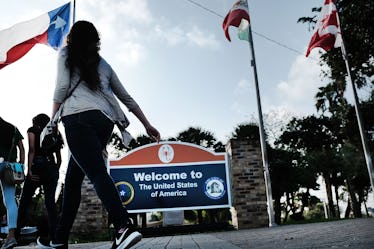 The DHS Asking For More Space For Immigrant Families Shows The Border Crisis Is Far From Over
Spencer Platt/Getty Images News/Getty Images
A little more than a week after President Donald Trump signed an executive order that would attempt to reduce the number of families separated at the border, the Department of Homeland Security (DHS) is reportedly seeking more military space to house detainees, according to NBC News. The number of migrants attempting to cross the border typically ebbs and flows, but the uptick in detainees is the result of a "zero tolerance" policy ordered by U.S. Attorney General Jeff Sessions in April, which doesn't discriminate between first-time offenders, asylum-seekers, or parents with small children. The DHS reportedly asking for more space for immigrant families shows the border crisis is far from over.
NBC News first reported on Wednesday, June 27, that the Department of Defense (DOD) said it was asked by the DHS for space to care for a migrant "family population of up to 12,000 people," about 2,000 of whom would require space within 45 days. Elite Daily reached out to DHS for comment on this reported request, but did not hear back before publication. (If these acronyms are getting confusing, it's because they're each agencies within the executive branch that serve a lot of overlapping areas. Particularly with immigration, it's a concerted effort across these different departments.
The DOD said in a statement that it was reportedly asked to identify any of its facilities that could house 12,000 people, per NBC News, and if those military spaces (think airport hangars, open areas in storage facilities, etc.) aren't available, it has reportedly been asked to build camp facilities that can house 4,000 people at three separate locations. According to the report from NBC News, locations in Texas, Arizona, New Mexico, or California were being eyed. The DHS did not respond to Elite Daily's request to comment on NBC's report.
"DHS tells me these new facilities will be staffed by ICE — so they will be new ICE family detention centers," MSNBC reporter Jacob Soboroff tweeted late Wednesday. "Meanwhile, HHS still has custody of 2,047 kids who were separated from their parents. We don't know where they are. Nor when or if they'll ever be reunited."
Children are required by law to be moved from detention facilities after 20 days (this is based the 1997 Flores Settlement Agreement that you might have heard about in the news lately). So, there was technically no Trump administration policy that mandated the separation of children from their families, but the implementation of the "zero tolerance" policy would ensure that it would happen, per the Flores agreement.
It baffled many when different members of the Trump administration were sort of incredulous about child separation, because they made it happen. Two Trump staffers — Sessions and White House Chief of Staff John F. Kelly — are on record saying that they believed splitting up families would be a deterrent for people crossing the border (research says otherwise). At a speech in Arizona, Sessions offered this directive to people attempting to cross the border, per The Washington Post: "We will prosecute you, and that child will be separated from you as required by law. If you don't like that, then don't smuggle children over our border." The Washington Post also reported earlier in June that White House Chief of Staff Kelly said it even more explicitly, saying, "They're coming here for a reason. And I sympathize with the reason. But the laws are the laws. But a big name of the game is deterrence."
Secretary of Homeland Security, Kirstjen Nielsen, said at a press conference on Monday, June 18, that she found the insinuation that the Trump administration wants to separate children from their families "offensive."
The Intercept obtained an internal email reportedly sent by Nielsen on Friday, June 22, that suggested HHS was aiming to use the backlash to family separation to amend the Flores agreement to allow government officials to prolong family detention. In her email, she reportedly reminded staff that the executive order also asked Sessions to appeal the Flores settlement. Elite Daily reached out to the DHS for comment on the reported email, but did not hear back before publication. In the email, she reportedly said the law "prevents us from detaining minors with parents," adding, "This is the court ruling that has limited the department's ability to keep families together while adults are held accountable for illegally crossing our borders." (Nielsen also reportedly helped draft the executive order.)
The human consequences shrugged off by Sessions and the Trump administration have angered critics in the weeks since the tightened practices were rolled out. A Honduran father separated from his wife and child killed himself in a Texas jail in May after suffering a breakdown, U.S. authorities confirmed to NBC News. Last month, reports circulated that the government had "lost" nearly 1,500 children who had arrived in the U.S. alone. (HHS argued that it is not their responsibility to keep track of children who are placed with U.S. sponsors, and that they weren't actually "lost.")
In some ways, the executive order was successful in doing what it was engineered, in part, to accomplish — the pressure on the Trump administration over immigration has subsided and the national news has already shifted gears a little bit. Clearly though, this crisis isn't going anywhere as long as "zero tolerance" is in place.