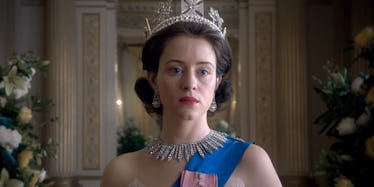 'The Crown' Season 3 Timeline Has Been Revealed & We're Ready For The Drama
Netflix
I've been ready for Season 3 of The Crown since the moment I watched Season 2's final shot of a stoic Elizabeth cracking a smile amidst her family being a little overbearing at a royal christening. Not only will it delve into notable years within the UK government and society, Season 3 will introduce a brand new cast as characters continue to age throughout the course of the series. After much fan speculation about when in time the new episodes will start, producers have now confirmed The Crown Season 3 timeline. Since they can't figure out who should play Prince Philip yet, at least they have this locked down.
Speaking at a BAFTA Masterclass in London, creator Peter Morgan revealed that Season 3 will take place from 1964, when Season 2 concluded, to 1976. Seasons 3 and 4, both starring Olivia Colman as Queen Elizabeth II, will be shot in immediate succession, suggesting that the timeline of Season 4 will start soon after the third season's endpoint. Morgan shared that the new scripts are currently works in progress:
I'm writing them all at the moment. We've got Olivia, which is fantastic, and now we're just embarking on the process of casting... [Netflix] makes you look at the way a season might flow in a different way. I'm finding I'm thinking differently to how I would have done in a pre-Netflix, pre-streaming age.
The series continuing in the same year as the end of Season 2 definitely confuses me. The season ended with the christening of Prince Edward, who was born in March 1964. Elizabeth's sister, Princess Margaret, gave birth to her second child that May. Although Prince Charles was 15 and Princess Anne was 13 at the time, the child actors who played the two throughout Season 2 will likely be replaced by adults, despite still being teens at the beginning of Season 3's timeline. Elizabeth and Margaret, although still new mothers, will seem much older with Colman and Helena Bonham Carter playing them.
I'm a nerd for continuity, and Season 3 picking up in the same year with Elizabeth and her contemporaries suddenly looking completely different does bother me a little. A decently sized time jump between the seasons had previously been teased, which would have made the new actors' appearances very believable, but I guess that isn't the case anymore.
So far, only Colman and Bonham Carter have been announced to join the show, but finding capable actors to play Charles, Anne, and new character addition Camilla Shand (now Parker Bowles, Charles' wife) is a top priority for producers. With the season's timeline set in stone, fans now have a better idea of what major events to expect when the show returns.
Vanity Fair reports that Charles is due to play a much greater role in Season 3, with the late '60s and early '70s consisting of his investiture as the Prince of Wales, his university and navy experiences, and the first time he met Camilla. Meanwhile, by 1970, Anne was dating Camilla's eventual first husband, Andrew Parker Bowles, but she married her own first husband, Mark Phillips, in a 1973 televised wedding ceremony. Politically, the season will cover the entire tenure of Prime Minister Harold Macmillan.
Those still crossing their fingers for a surprise appearance from Diana, Princess of Wales, in Season 3 are out of luck. The Crown producers have repeatedly confirmed that she won't appear on the show until Season 4, which will also feature the beginning of Margaret Thatcher's time as prime minister. Does that mean we can also expect a baby Prince William in Season 4?
At the BAFTA Masterclass, the production team didn't specify when in history The Crown may end, but director Ben Caron joked, "As soon as Donald Trump walks into Buckingham Palace."
Well, seeing as that has yet to happen, The Crown certainly has a long way to go before catching up with the modern-day royal family.