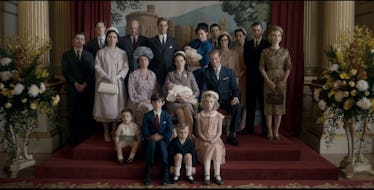 'The Crown' Season 3 Cast List Is Almost Complete & Fans Will Be Thrilled
Netflix
Netflix has completed two seasons of The Crown to great acclaim and awards love, with Claire Foy taking home Outstanding Performance by a Female Actor in a Drama Series at the SAG Awards as part of her final bow with the series. Now comes the big gamble. We say goodbye to the first cast and start over with a new Elizabeth, Phillip, and Margaret, as they are recast with an older generation of actors to portray these historic roles for the next two seasons. The Crown Season 3 cast list is almost set to cover the portion of Elizabeth II's reign from the mid 1960s through the mid 1980s.
Update: Paul Bettany is no longer slated to play Prince Phillip on 'The Crown' Season 3, according to The Independent.
Earlier: The plan has always been this, ever since Netflix originally greenlit all six seasons for production back in 2013. At the time, such a thing was unheard of: an untested show, greenlit so far ahead? Three sets of casts, starting over every two seasons? But the first round has been one of Netflix's major successes in their attempts to get into the prestige TV derby, with Foy winning at the Golden Globes last year and at the SAG Awards this year. They have since confirmed that Season 3 and Season 4 are a go to The Hollywood Reporter.
Foy told THR that the experience of stepping off a show while it's still going is a new one for her, and she looks forward to it.
The amazing thing about the show is the fact that it will go on and that it hasn't ended badly. It'll go on and have another life. I can't wait to watch it, and I just think whoever they get to play that part, they'll be extraordinary. I will never watch it with any sense of bitterness or regret. I will feel what I will feel now, which is so happy and lucky for the experience.
So, what does the new cast look like so far? Let's see.
Olivia Colman Is Elizabeth II
The first step was casting Liz herself, which the production did before Season 2 even arrived on Netflix. Olivia Colman, of Broadchurch fame, will be taking over as The Crown's central protagonist. From the looks of the images above, it's a pretty good match.
Paul Bettany Is Prince Philip
The second most important role is that of Prince Philip. In the first two seasons he has been played by ex Doctor Who Matt Smith. Unlike Foy, Smith is used to this experience, as doctors get recast on the regular on Doctor Who.
Colman, who worked with another Who alum (David Tennant) was on record saying she hoped he might land "older Philip," but the show has gone in a different, blonder direction, casting Paul Bettany (of Avengers: Age of Ultron fame). The side-by-side photo does make a great argument for this casting.
Helena Bonham Carter Is Princess Margaret
And finally, in the most dramatic of the roles to come this season, Vanessa Kirby will be replaced by Helena Bonham Carter, who gets to ride out the years when her marriage implodes and she winds up divorcing Antony Armstrong-Jones, the Earl of Snowdon (last played by Matthew Goode). The photo above is her in the role of another royal, in The King's Speech as Elizabeth, Queen Mother to King George VI, aka Elizabeth and Margaret's grandmother.
We still are missing a few key players, most notably Charles, who, during this period, will have his formal investiture ceremony as well as other major moments. They've also yet to cast Camilla Parker Bowles, the woman he fell in love with but the Palace refused to let him marry. She'll be introduced this coming season.
Also yet to be cast: the woman Charles was forced to marry by the Palace, the late Princess Diana. It is unclear if their famous wedding will be recreated at the end of Season 3 or the beginning of Season 4, but either way, it is probably the most anticipated of the historical recreations the show will undertake since Elizabeth's coronation in Season 1.
Whoever lands the role of "Shy Di" will come to the forefront in Season 4, and may even survive the recasting rounds of Season 5, as Diana stayed looking youthful until her death in 1997. (Recasting Phillip to look older, but letting Diana stay the same age would be a particularly cruel cut.)
Though Diana will step into the spotlight, the focus will still remain on Elizabeth and her reign, which means we'll also be meeting her Prime Ministers. Season 3 will focus on Prime Minister Howard Wilson, under who the U.K. economy crumbled badly, and Season 4 brings us another famous face, the Iron Lady herself Margaret Thatcher.
The Crown Season 3 is expected to arrive on Netflix towards the end of 2018.