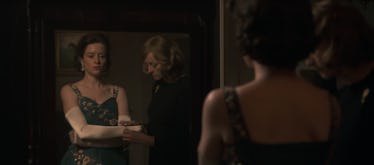 'The Crown' Season 2 Cast Has Us Ready To Royally Binge On History
Netflix
If it's holiday time, then it must be time for another round of British royalty with the arrival of The Crown Season 2 this December. The series, which was greenlit for six full seasons, focuses on a decade of the life and rule of Queen Elizabeth II, the current reigning monarch of the U.K. Season 1 covered the period from 1947 to 1956. This new season moves the story along to the period from 1957 to 1963. With a new era comes new characters, and The Crown Season 2 cast looks to be making an fine argument for moving right along to the next decade.
If you're worried that Claire Foy as Queen Elizabeth and Matt Smith as Prince Philip have been recast, no, not yet. That *is* happening though. It's actually part of the show's entire concept. Rather than put Foy and Smith in old age makeup, as Elizabeth and Philip age, the show will merely recast them with older actors. But, that's not starting until Season 3. It has already been announced that Olivia Colman (of Broadchurch fame) will take over the lead role. No word who will take over Philip or Elizabeth's sister, Princess Margaret, as of yet.
Speaking of Margaret, as we know, the end of Season 1 left her heartbroken and alone, as Elizabeth had to turn down her wish to marry Group Captain Peter Townsend. Never fear, though. One of the major castings for this season is her next suitor, the one that (spoiler alert) history tells us she will marry.
Matthew Goode Is Antony Armstrong-Jones
Matthew Goode plays Antony Armstrong-Jones, a society photographer and an artist, and the one who marries Princess Margaret. They were married in 1960, which means this season will get a royal wedding, though we assume not quite as large as Elizabeth's to Philip last season.
Goode will be familiar to those who love British television, most recently for his turn in Downton Abbey, as Lady Mary's race car-driving beau from the final two seasons. Let's hope Margaret is as lucky as Mary was.
Anton Lesser Is Harold Macmillan
Ever since I became aware of Anton Lesser, I become more and more in awe of his work. First as Qyburn in Game of Thrones, then as Chief Superintendent Reginald Bright in Endeavour, and then as Thomas More in Wolf Hall, Lesser is always the quiet one who draws all the attention. In this series, he'll appear as the Queen's next Prime Minister, Harold Macmillan, after the retirement of the hapless Anthony Eden, who took over at the end of Season 1 when Churchill retired.
Macmillan was a powerful historical figure during his time in office and established numerous acts that improved the standard of living across the U.K., including the Clean Air Act, the 1957 Housing Act that took steps to prevent overcrowding in housing estates, the pension scheme to make sure retirees did not fall below the poverty line, as well as the Children's Special Allowance for orphaned children. He also encouraged a "special relationship" with the United States, making us close allies.
Michael C. Hall Is John F. Kennedy
That leads us to the other major casting of the season: John and Jackie Kennedy, the American faux-royalty that came to visit the palace during his time in office. Hall is best known for his lead role on Showtime's Dexter, and his Kennedy impression should be a curious one indeed. In the stills, it's hard to see past Hall's instantly recognizable eyes.
Seated next to him is Jodi Balfour as Jacqueline Kennedy. Balfour isn't as well known in the states as Hall. She's a South African actress and is best known for her role as Gladys Witham in the Canadian TV series Bomb Girls. Since she's not as well known, hopefully she will disappear into the Jackie impersonation.
As this is a very British show, it will be interesting to see their take on the well-known and beloved first couple of the 20th Century.
The Crown Season 2 arrives on Netflix on Friday, Dec. 8, 2017, with 10 episodes.