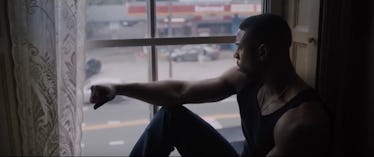 The 'Creed 2' Trailer Features A Sweaty Michael B. Jordan, So You'll Need That Ice Bath
MGM/YouTube
I suddenly have a newfound interest in the sport of boxing, because the long-awaited Creed 2 trailer is here and it's packing a seriously dramatic punch. Michael B. Jordan's Adonis Creed is getting back in the ring, but this time, as the trailer promises, he's got "more to lose than a title."
"In the ring, you got rules. Outside, you got nothing. Life hits you with all these cheap shots. People like me live in the past. You got people that need you need. You've got everything to lose. This guy's got nothing to lose," his mentor Rocky Balboa (Sylverster Stallone) warns in the clip.
"I ain't got a choice," Creed responds.
"That's the same thing your father said and he died right here in my hands," Rocky tells him.
At this point in his life, Creed's got a family depending on him and a legacy to uphold. And he's about to battle Viktor Drago (Romanian boxer Florian Munteanu), the son of unforgettably menacing contender and Apollo Creed killer Ivan "I must break you" Drago (Dolph Lundgren).
"It may not seem like it now, but this is more than just a fight," a voice is heard saying in the trailer, which is aptly set to Kendrick Lamar's "DNA." Shots of Creed's intense training are intercut throughout and there's a glimpse at Drago prepping in the ring before Creed struts in confidently.
Um, I'm sold.
Sylvester Stallone penned the script for Creed 2 alongside Notorious and Luke Cage writer/showrunner Cheo Hodari Coker. Steven Caple Jr. (Grown-ish, The Land) serves as director. The synopsis for Creed 2 is as follows:
Life has become a balancing act for Adonis Creed. Between personal obligations and training for his next big fight, he is up against the challenge of his life. Facing an opponent with ties to his family's past only intensifies his impending battle in the ring. Rocky Balboa is there by his side through it all and, together, Rocky and Adonis will confront their shared legacy, question what's worth fighting for, and discover that nothing's more important than family. Creed II is about going back to basics to rediscover what made you a champion in the first place, and remembering that, no matter where you go, you can't escape your history.
2015's Creed, the seventh installment in the Rocky series, was met with critical commercial success. Stallone won a Critics' Choice Award and Golden Globe for his performance and earned an Oscar nomination for Best Supporting Actor.
Tessa Thompson reprises her Creed role as love interest Bianca for the sequel, and Elite Daily had the chance to chat with her at the MTV Movie and TV Awards red carpet about what to expect from the awaited follow-up. The actress explained:
You can expect all the things you wanna expect. You can expect shirtless men that are really buff. Michael B. Jordan is buffer than he was even the first time around, unbelievably. You can expect all the sort of struggles the characters were going through previously sort of intensified. It's a story about family, it's a story about legacy.
Sly Stallone has been teasing the upcoming movie on social media throughout filming, offering his followers behind-the scenes breadcrumbs. The actor/writer/producer has been sharing snaps of his training regimen, the production process, even taking time to get in a little Philly nostalgia in surrounding the iconic franchise.
Creed 2 may be eighth part of the Rocky saga, but it looks just as thrilling, heartfelt, and extreme as its beloved predecessors.
Get in your corners, people. Creed 2 hits theaters November 21, 2018.