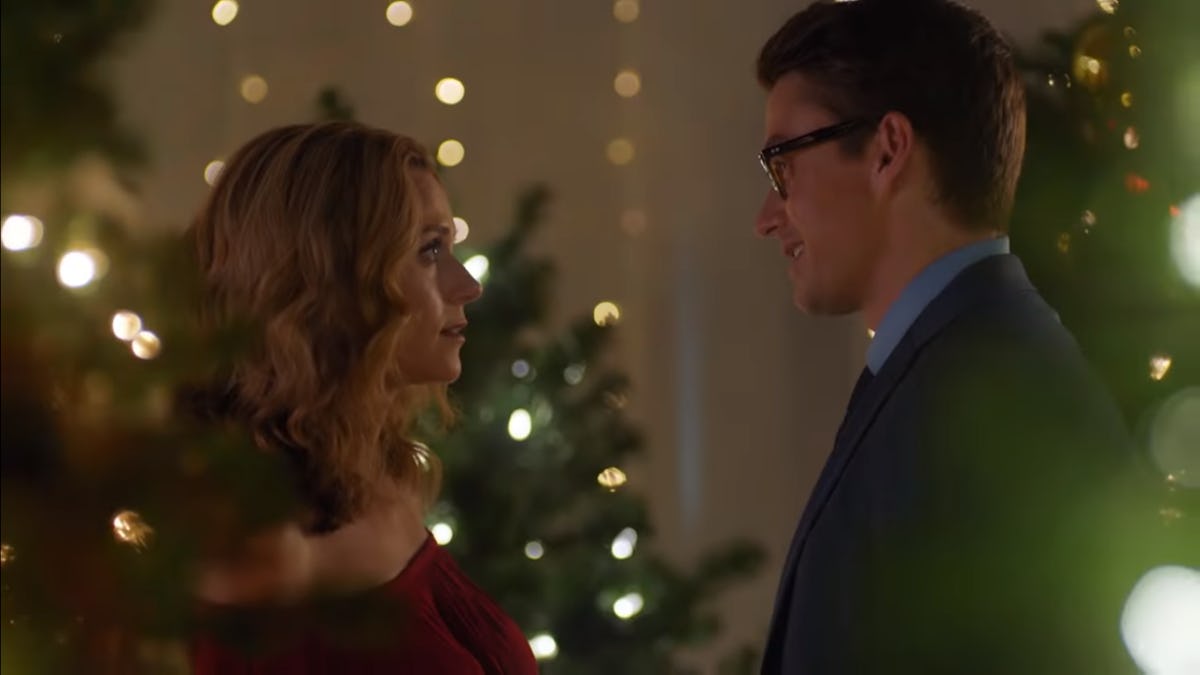 The 'One Tree Hill' Christmas Movie Trailer Will Give You Full-Body Chills
Lifetime
Get ready, Ravens! Some of our One Tree Hill favorites have finally reunited in the name of Christmas spirit, and we have our first look at this alternate universe of high school pals having a magical holiday together. The Christmas Contract trailer is here, and you need to watch this as soon as you've stuffed yourself with Thanksgiving dinner this week. Will the movie's credits roll alongside "I Don't Want to Be?"
In what's a winning card for Lifetime's holiday movie game against Netflix and Hallmark, The Christmas Contract stars five former One Tree Hill cast members as original characters in a new story. The CW teen drama originally ran from 2003 to 2012, and while leading lady Sophia Bush has downplayed the possibility of a revival series, The Christmas Contract means we have one more holiday celebration with some of our favorite cast members. The movie isn't about a cozy North Carolina Christmas that fills us in on where the whole gang is today, but you can always pretend this is Peyton's weird fever dream.
The former Peyton Sawyer, aka Hilarie Burton, stars as Jolie, who's heading back to her Louisiana hometown for the first time since breaking up with her boyfriend Foster (Hunter Burke). Because their parents run the local Christmas market together, Jolie knows she can't avoid him. Her best friend Naomi (Danneel Ackles, or Rachel on One Tree Hill) comes to the rescue and draws up a contract between her brother Jack (One Tree Hill's Robert Buckley) and Jolie stating they use each other for what they need this holiday season. According to Lifetime's official page for the movie, Jack will serve as a "buffer" for awkward interactions with Jolie's ex, while web designer Jolie will create a site to help promote Jack's new novel. Of course, innocent Christmas deals never end calmly, and as the new trailer suggests, romance soon blooms between Jolie and Jack.
While seeing Peyton and Clay romantically linked is a little strange, seeing Burton, Buckley, and their other old co-stars is the greatest gift possible. Also appearing in the movie are Tyler Hilton, who played Chris Keller on the CW drama, and Antwon Tanner, previously seen as Lucas Scott's close friend Antwon "Skills" Taylor. While Hilton's Christmas Contract role has been described as a musical appearance, Tanner plays Naomi's husband. The movie clearly hasn't shied away from romantic pairings that never existed on One Tree Hill, but here's hoping that this stills allows for some meta nods to the original series.
The movie's Thanksgiving Day premiere airs right before the Lifetime special 'Tis the Season: A 'One Tree Hill Cast' Reunion. Beginning at 10 p.m. on Nov. 22, the program is described as the following:
The Tree Hill Ravens are back together to celebrate the Christmas season on Lifetime. In this special one-hour reunion, Hilarie Burton, Tyler Hilton, Danneel Ackles, Antwon Tanner of The Christmas Contract and Stephen Colletti of Hometown Christmas, reunite for a special evening that will include a few surprise special guests.
If the One Tree Hill cast is turning to Lifetime as much as it looks, where's our proper reunion series? The Christmas Contract seems like the perfect first step in what could be a beautiful partnership, so I wouldn't complain about any future holiday movies taking place in Tree Hill itself. Take note, Lifetime!
The Christmas Contract premieres on Thursday, Nov. 22, at 8 p.m. ET on Lifetime.