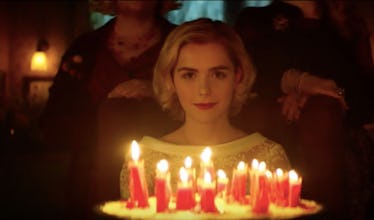 The First 'Chilling Adventures of Sabrina' Trailer Is Finally Here & It's Spooky
Netflix
Is there a draft in here or is it just the Chilling Adventures of Sabrina teaser that recently dropped? Netflix finally blessed fans with a short trailer for the upcoming comic book adaptation and, um, guys? I'm already scared. Happy birthday never sounded so sinister and high school never looked so dark and creepy. This is going to be good. But I'm still a little freaked out, TBH.
Chilling Adventures of Sabrina comes from the creative mind of Riverdale showrunner Roberto Aguirre-Sacasa, so you didn't expect to be all light and fluffy, did ya? Instead of mirroring the Melissa Joan Hart Sabrina of the late '90s, Netflix's version is set to have a more ominous and horror-leaning tone. And from the looks of this teaser, it's delivering.
Kiernan Shipka stars in the title role as Sabrina Spellman, whose birthday party doesn't exactly look like a warm and fuzzy celebration. In addition to the spooky party (which features someone wearing terrifying oversized horns), the teaser offers up glimpses at more of Sabrina's adventures to come — candlelit seances, running through forests in ethereal cocktail dresses, and kisses with her boyriend Harvey Kinkle (Ross Lynch). The clip concludes as she blows out her birthday candles while showing off an eerie smirk. Bonus: Salem the cat makes a cameo.
Per TVLine, Sabrina is described as "empowered young woman — half-human, half-witch — who is just beginning her dark education as a sorceress, even as she tries to maintain a normal life as a sophomore at Baxter High. Intelligent, compassionate and brave to the point of recklessness, Sabrina is all that stands between us and the forces of darkness that threaten our world." Tonally, it's been teased as "in the vein of Rosemary's Baby and The Exorcist."
"It's sort of like The Sopranos, as if you were telling it from Meadow's point of view," Aguirre-Sacasa has explained of the the 1960s-set show's narrative.
The series was originally intended to be a Riverdale companion series for The CW, as the character was born out of the same Archie comics universe. But that concept materialized into a standalone project and according to comments at April's PaleyFest by Jon Goldwater, Riverdale producer and CEO of Archie Comics, the shows are "two separate entities for right now."
Roberto Aguirre-Sacasa, who's currently at the helm of both series, is actually the creator of the comics (of the same name) that Chilling Adventures is based on.
Some not-so-chilling news? The OG TV Sabrina, Melissa Joan Hart, has given the new iterration her blessing.
"If you're going to do the same show, it probably would fall on its face, but I think what they're doing is probably the smartest way to reboot something," the actress explained to EW.
Hart's Sabrina was a TGIF sitcom filled with jokey time-traveling gags and silly spells, and now it's even more clear fans shouldn't anticipate that vibe when Chilling Adventures haunts TV screens next month.
Chilling Adventures of Sabrina hits Netflix on Oct. 26.