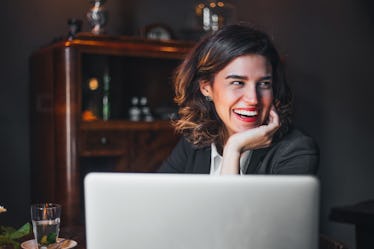 The Life-Changing Career Move You Should Make In 2018, Based On Your Zodiac Sign
New Year's Eve is in sight, friends, which means parties are being planned and resolutions are coming through the woodwork. Fitness and health-related goals are respectable aspirations, obviously, but let's move away from aesthetics and chatter surrounding that #fitlife for a second. Instead, let's talk about the career move you should make in 2018 because, listen, biceps are great and all, but so are end-of-the-year bonuses. If you want yours to increase by a few bucks this time next year, you have to put in the groundwork.
Cash money shouldn't be your sole motivator, though. There's a girlboss in all of us, and I don't know about you, but I'm thinking 2018 is the year to channel that girl power and let her shine through. This isn't me telling you that you suck at your job, or that it's time to change careers entirely, BTW. Trust me, I love my job, and I like to think I'm pretty good at what I do, but I know there's always room for improvement. Why settle for less than the best, amirite? Of course I am. I'm a Scorpio — I'm always right.
Oftentimes, it isn't your workplace environment or skillset that holds you back from thriving in your industry; it's sometimes your personality, aka your zodiac sign, that might be preventing you from living your best life. Even if you don't necessarily buy into horoscopes and all that jazz, there's no denying the fact that sometimes, the character traits assigned to our symbols can be eerily spot-on. If you're curious to see what minor discrepancy is causing you major issues in furthering yourself at the office, read on to find out what moves you should be making in 2018.